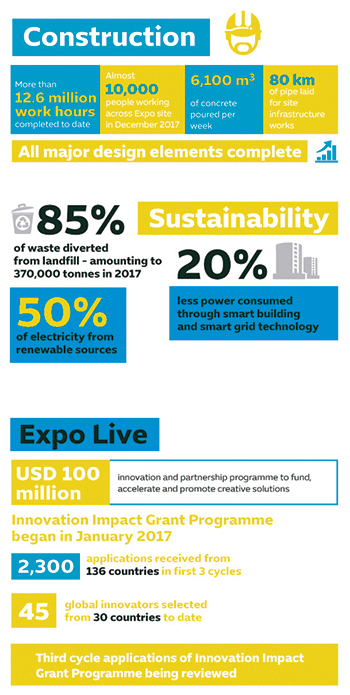 Laing O'Rourke wins Expo 2020 deal
February 2018
Leading international construction company Laing O'Rourke has been awarded two major contracts worth Dh670 million ($182 million) by Expo 2020 Dubai organisers. These are for building of two pavilions and an access road for Expo 2020.
As per the agreement, the UK-headquartered contractor will build Expo 2020's Leadership and Media Pavilions, and the event's 'Hammerhead' access road to Al Wasl Plaza plus landscaping.
The company will also be responsible for carrying out associated mechanical, electrical and plumbing (MEP) works.
With a diameter of 150 m, Al Wasl Plaza will form the centrepiece of Expo 2020's 4.38-sq-km site in Dubai South.
Ahmed Al Khatib, the senior vice-president of Real Estate and Delivery at Expo 2020 Dubai, said: "We are on track to deliver an exceptional site for an amazing Expo and are delighted to announce Laing O'Rourke as the main contractor for these important two contracts. The company was selected from among strong international competitors due to its keen understanding of our technical and commercial requirements. It has a long and prestigious history within the UAE."
According to him, these projects will be constructed in close proximity to the UAE Pavilion and other pavilions. This area is already a hive of construction activity, with all of these projects being built simultaneously.
"With this in mind, close collaboration between construction companies on site will be vital to coordinate logistics and ensure that work continues according to our schedule," he stated.
UAE-based real estate developer Meraas is managing design and procurement activities for Expo 2020's Al Wasl Plaza, which was designed by Chicago-based Adrian Smith + Gordon Gill Architecture.
Expo 2020's Leadership and Media Pavilions will be transformed into hotels post-Expo, as part of the District 2020 legacy development project. They are both expected to achieve four-star ratings. The Leadership Pavilion will accommodate the UAE leadership during the Expo.
The Hammerhead, so called because of its distinctive shape, will house a ramped access road for Expo 2020's truck tunnel – a subterranean road that will run underneath Al Wasl Plaza. It was designed by Pasadena-based Parsons Corporation.
Construction related to Expo 2020 is expected to reach its peak towards the end of 2018 and early 2019. There are already about 12,000 people working across all projects on the site; this figure is expected to grow to 35,000 by early 2019.
More Stories