UAE Focus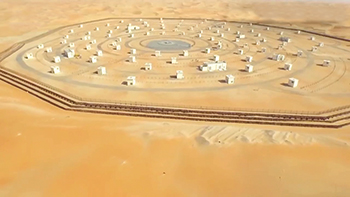 Largest desal water reserve unveiled
February 2018
Abu Dhabi has unveiled the world's largest reserve of high-quality desalinated water, secured in a network of 315 recovery wells lying up to 80 m below the Liwa Desert. The wells are fed by one of the UAE's longest water pipeline networks which runs the water from Shuweihat desalination plant at a rate of 7 million gallons per day over 27 months.
The project addresses Abu Dhabi's water security and its resilience through the recharge of groundwater aquifers with high-quality desalinated water, which cannot be stored above ground due to contamination and other factors. The desalinated water is piped from the coast to create the secure, underground reserve system and was accomplished by a team of experts from the Environment Agency – Abu Dhabi (EAD), Abu Dhabi Transmission and Despatch Company (Transco), Abu Dhabi Water and Electricity Authority (Adwea), RSB, the independent regulatory body for Abu Dhabi's water and electricity sector, GIZ International, Do. Rainer Consultancy and ACC-Posco JV.
Established in one of the world's driest areas where rainfall rarely exceeds 10 cm a year, the project has been completed at an estimated cost of Dh1.61 billion ($435.62 million) to deliver a fallback pumping capacity of 100 million gallons of water per day to the emirate if required. The desalinated water percolates into the subsurface through basins with a system of semi-perforated underground pipes to recharge the aquifer using only gravity as a driving force.
The project ensures a continuous water supply for Abu Dhabi city and Al Dhafra region and secures the reserve for future generations. Whenever needed, water from the 315 wells, lying up to 80 m below ground, can be used to recover supplies at any time.
More Stories