UAE Focus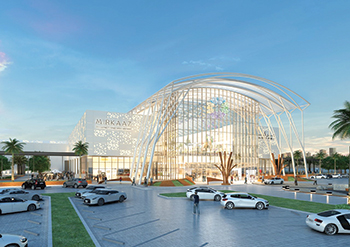 Chinese group wins Ajman mall contract
February 2018
Ajman Holding, a leading property developer, said it has signed up China State Construction Engineering Corporation for the construction and development of its key retail destination, Mirkaaz, in the northern emirate.
Valued at Dh500 million ($136 million), Mirkaaz will feature a sprawling atrium roof of more than 7,900 sq m, constructed using ETFE (ethylene tetrafluoroethylene) technology to provide natural ultraviolet (UV) light within the mall besides allowing natural growth of plants, and providing scenic day/night sky views to all visitors, creating a shopping experience on a whole new level.
Work on the project was due to start last month (January) and is due for completion in the last quarter of 2019, said Ajman Holding.
To be built over one million sq ft of land in Ajman, Mirkaaz will host a 15,000-sq-m hypermarket and also encompass more than 100 stores. It is expected to draw more than 10 million visitors in the very first year of its operations, it stated.
The agreement was signed by Yahya Al Jasmi, the managing director of Ajman Holding, and Yu Tao, the president and chief executive of CSCEC in the presence of Ajman Holding chairman Sheikh Abdulaziz bin Humaid Al Nuaimi.
More Stories