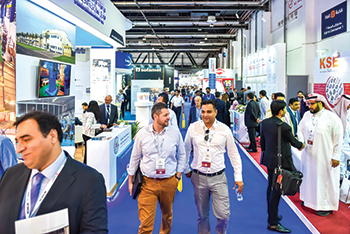 Best global minds to power MEE 2018
February 2018
ALL EYES in the energy sector will be on the Middle East Electricity (MEE), an international trade event for the power industry that will host more than 1,615 companies from 66 countries and 24 dedicated country pavilions, and also bring in 140 regional and international speakers from 28 countries at the inaugural co-located Global Smart Energy Summit (GSES).
The 2018 show, which runs at the Dubai World Trade Centre next month (March 6 to 8), will also feature a new dedicated Energy Storage and Management Solutions sector. Organised by Informa Exhibitions, MEE 2018 is held under the patronage of HH Sheikh Maktoum bin Mohammed bin Rashid Al Maktoum, Dubai Deputy Ruler, and is hosted by the UAE Ministry of Energy.
Energy Storage and Management Solutions joins four other specialised sectors at the show including Transmission and Distribution, Power Generation, Lighting and Solar.
"We are experiencing strong demand for the show's 2018 edition and this appears to be a resounding vote of confidence in the sector and in the ongoing commitment of GCC governments to invest in this segment and seek alternative financing vehicles," said Anita Mathews, group director – industrial portfolio at Informa Exhibitions.
A massive surge in investment has piqued interest in MEE 2018, she said. The value of power construction contracts awarded throughout the GCC in 2018 will reach $23.6 billion, according to a report for the event by Ventures Onsite. The report highlights Saudi Arabia will lead the awards ranking, accounting for 59 per cent of contract value, followed by the UAE and Kuwait.
"This scale of evolution is nothing short of breathtaking with the multilateral development bank Apicorp putting GCC requirements alone at $85 billion worth of investment in an additional 69 GW of generation capacity and $52 billion for transmission and distribution over the next five years," said Mathews.
The GCC power capacity needs to expand at an average eight per cent annually up to 2020 with Saudi Arabia facing the biggest demand and needing to invest $71 billion to increase capacity to 114 GW, according to the Apicorp report.
Mathews said solar is now undoubtedly one of the fastest-growing sectors in the region with the Middle East Solar Industry Association putting the number of solar projects under execution throughout the Middle East and North Africa at 3,610 with another 1,300 under tender.
The MEE report says the renewables sector is on the rise as the region pursues economic diversification policies.
"GCC countries are shifting towards renewable resources for energy generation to preserve their oil wealth. Currently, renewables form the fastest growing energy source for electricity generation. GCC countries are investing heavily in renewable energy to achieve significant targets by 2030-2040," states the report.
Meanwhile, the inaugural GSES is a three-day high-level summit featuring some of the biggest corporate champions in sector transformation, including Tesla, US National Renewable Energy Laboratory, US Department of Energy and Nasa.
"Global Smart Energy Summit will be a knowledge-sharing, dialogue-forming and networking forum designed to deliver the most comprehensive forecasting, planning and analytics on the way forward for the industry – from reforms, policy and incentives to development in smart grids," said Ryan O'Donnell, programme director at GSES.
Informa has secured an impressive speaker platform for the summit which includes Jeffrey Brian Straubel, Tesla's co-founder and chief technical officer and board member of the transformative SolarCity; Andy Karsner, former assistant secretary for energy efficiency at the US Department of Energy, who led the implementation of the Twenty-In-Ten Advanced Energy Initiative; and internationally-acclaimed Big Data guru Kirk Borne.
The summit will also open with a ministerial keynote, 'State of Energy', by the UAE Ministry of Energy, which will outline the need to balance growth from smart and sustainable energy sources to drive long-term competitive advantage.
GSES will also feature dedicated, country-focused sessions looking individually at the opportunities and challenges of developing usable renewables and meeting national power programmes in seven Middle Eastern countries – UAE, Saudi Arabia, Bahrain, Oman, Jordan, Egypt and Kuwait.
More Stories