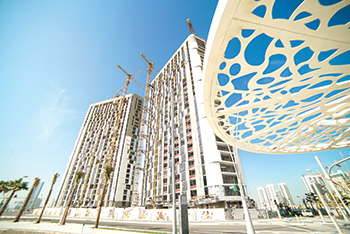 Aldar readies projects for handover
February 2018
Aldar Properties of Abu Dhabi says it will continue to deliver homes at its Ansam and Al Hadeel developments as well as start handover of plots on Nareel Island and at Al Merief this quarter.
Construction also continues to make strong progress across Aldar's remaining developments, says the company.
Ansam is the first residential development on Yas Island to be handed over to residents and marks the establishment of the island's residential population. The Emirati developer says delivery of homes to customers at Ansam began in December and will continue throughout this quarter.
At Al Raha Beach, handover of homes at Al Hadeel also commenced in December, it adds.
The handover of plots on Nareel Island, a premium high-end plot development located on the coast of Al Bateen, was due to begin last month. Plots at Al Merief, a residential community specifically designed for UAE nationals in Khalifa City, will also be handed over this quarter.
Turning to its residential projects which are under construction on Yas Island, Aldar says interior work is progressing well at West Yas, with over 300 villas in the final fix and testing stage, in preparation for handover to customers. In addition, the school, mosque and retail building have been handed over, says the Emirati developer.
At Mayan, Aldar's luxury golf and waterfront apartment development facing Yas Links golf course, shoring, enabling and reinforcement works continue across the entire project.
At Yas Acres, villa and townhouse construction is well under way in the three precincts launched to date, with work on the main utility networks progressing across the entire site.
Aldar points out that on Reem Island, the main construction works will begin at The Bridges during early second quarter after the completion of the enabling and piling works, which are well under way. Also on the island, glazing and facade work is nearing completion on both the towers of Meera residential development.
Work continues on the expansion of Al Jimi Mall in Al Ain, which is due for completion this year. The expansion is set to add 33,000 sq m of retail, leisure and F&B (food and beverage) space.
More Stories