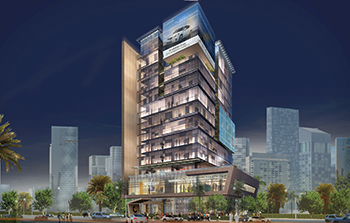 Countdown begins to CMC tower handover
The CMC commercial tower will set a new benchmark for office buildings in the Saudi capital, and will be home to Cayan's Riyadh headquarters.
March 2018
Cayan Group, a real estate investment and development company, is gearing up for the handover of the CMC commercial tower in Riyadh shortly.
Originally known as the CM1 Tower, the project will house Cayan's Riyadh headquarters. The 14-storey tower, located in the Al Malqa district on King Fahad Road immediately south of King Salman Road, is being built at a cost of $60 million.
Engineer Ali Khader, Cayan's director of engineering and development, said the project aims to create an office environment that is unique and could raise the bar for office buildings in Riyadh. "As our Riyadh headquarters will be in this building, the tower represents the uniqueness and the high standards that we are well known for," he told Gulf Construction.
Unique elements of the CMC tower are the screen and facade lighting, he says of the project that is considered as an architectural icon of King Fahd Road, he adds.
Consolidated Consultants is the consultant on the project while Al Bawani is the main contractor. Work on the project started in October 2015 and the project is expected to be handed over on April 1.The project covers a total site area of 3,330 sq m and has a total built-up area of around 19,000 sq m. It will have 11 full floors of office spaces, a floor for amenities, and two basement floors for car parking. There will be three retail shops on the mezzanine levels. Other amenities include a restaurant, coffee shop and a lounge.
The ground and mezzanine of the CMC tower feature the reception lobby with a coffee lounge and three retail shops. The lobby has a double-height ceiling to provide a majestic feeling to the entrance space with high levels of finishing commensurate with the Cayan image and corporate identity.
Detailing to Gulf Construction on the current status of work on site last month, Khader said blockwork on all floors is 80 per cent complete, while plastering works are under way on the upper and basement levels and tiling works are ongoing for the lift lobbies on the 12th floor. Work on the curtain-wall facades is progressing on two elevations.
Also under way are waterproofing for water tanks, planters and the back-of-facade stone and plaster; paint works for the two basement levels and the main stairs; and electrical cable tray and cable pulling on all floors (second fix).
In addition, installation work is in progress on the firefighting systems, ducting and drainage and water supply. Also, roof works are under way for the installation of the building maintenance unit (BMU system) and mechanical equipment.
The CMC tower project has clocked up impressive statistics with 30,000 cu m of earthworks carried out; 2,200 tonnes of steel reinforcement used; 25,000 cu m of concrete works; and waterproofing works covering 9,000 sq m involved in building the tower.
On the architectural side, the project has required 8,500 sq m of hollow concrete blocks; 2,000 sq m of stone cladding; 2,400 sq m of marble; 4,900 sq m (3,200 glazed units) of glazed curtain wall; 15,000 sq m of Portland cement plaster; 210 wooden and steel doors; 21,000 sq m of waterproofing and thermal works; and painting works over 21,000 sq m.
From a mechanical and electrical (M&E) perspective, two substations have been erected; while the M&E services have required the use of 4,900 m cables, 2,250 lighting fixtures, 1,100 m of cable trays, 2,400 m of uPVC drainage pipes, 2,700 m of water supply pipes, 5,000 m of HVAC ducting and installation of 26 general exhaust fans and 30 FM-200 enclosed rooms.
All in all, 255 persons including workers and engineers have been engaged on site.
Apart from the CMC commercial tower project, Cayan has three mixed-use projects in Saudi Arabia that are in the design stage.
Cayan Group early last year signed an architectural contract with Japan's Nikken Sekkei for its upcoming SR1.2-billion ($320 million) mixed-use waterfront project at Obhur in Jeddah.
The project, which will sprawl over an area of 140,000 sq m, will boast two towers: one a five-star hotel and the other branded residences offering high-end living.
In Dubai, the group is developing the Cayan Cantara in Barsha south, while another undisclosed project is in the design stage and will be announced later.
More Stories