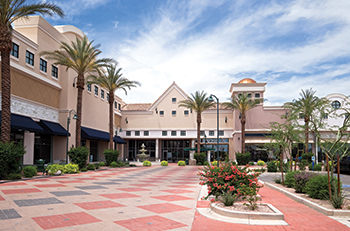 Plans unveiled for entertainment village
March 2018
Red House Real Estate Development House, a leading real estate developer in the Middle East and North Africa (Mena) region, has announced the launch of Riyadh Outlet Village, the first outlet and entertainment village of its kind in Saudi Arabia.
Set to take shape over a 160,000-sq-m area on King Fahd Road North in the Saudi capital, the Riyadh Outlet Village is estimated to cost SR300 million ($80 million) to build, according to a spokesperson for the developer. It is being developed as a themed multi-purpose shopping, recreational and cultural destination for all family members where they can enjoy recreational, entertainment, dining and cultural activities.
"The concept design of the project is presently under development and we are discussing with selected prominent contractors for the execution of the infrastructure and the upper structure buildings. We estimate the total volume of contracting at around SR300 million," the spokesperson tells Gulf Construction.
Riyadh Outlet Village will also comprise a traditional Saudi suq and market place as a modern reinterpretation of a traditional Arabian town, where Saudi designers and skilled artisans would display their products, and the perfect spot to discover more about traditional Arabic culture.
In addition, families will get to enjoy a high-standard shopping experience with prime brands of apparel, home appliances, furniture, sporting goods and many others.
Chairman Mazen Al Beaini says: "Red House continues to provide innovative and exclusive projects in Saudi Arabia in line with its firm belief in the extensive potential and prospects of the Saudi market especially since the upturn in all sectors due to major economic reforms achieved in recent years under King Salman and Crown Prince Mohammed bin Salman."
Al Beaini says Red House has already reached an agreement with one of the largest Saudi financial companies authorised by the Capital Market Authority to establish a closed investment fund worth SR250 million ($69 million) to finance the project.
Red House Group, a member of Al Beaini Holding, is a privately owned Saudi-Lebanese real estate investment and development firm that was established in 2005 and specialises in masterplanned communities investment and development. A major player in the region, Red House has several innovative mega projects in Algeria, Cyprus, Lebanon, Dubai and Saudi Arabia, to its credit.
In 2015, the company partnered with Dubai Investments to manage and develop mega real estate projects in Saudi Arabia and initiated its operation with the Riyadh Investment Park, an 11-million-sq-m mixed-use industrial, commercial and logistic complex strategically located in the east of Riyadh.
More Stories