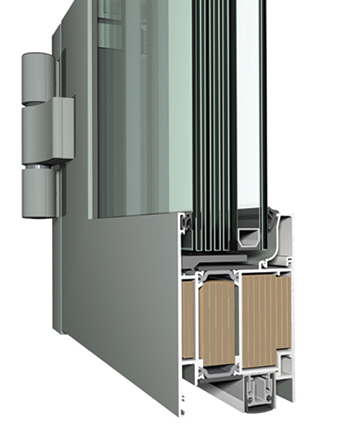 Reynaers systems buy crucial time
March 2018
Reynaers Aluminium offers a complete range of fireproof solutions that give building occupants the extra crucial time necessary to escape to safety in case of a fire.
These solutions, which are compliant with European standards, include the fireproof curtain-wall system CW 50-FP, and an innovative fireproof door and fixed window option based on the system CS 77 – all of which can be used in combination with other Reynaers products.
"The Reynaers fireproof systems are suitable to sub-divide buildings into various fireproof sections that are interconnected by fireproof escape routes and fire exits. These subdivisions offer an increased level of security for occupants and buildings in close proximity while also giving the building a higher value," explains Ali Khalaf, managing director of Reynaers Middle East (RME), the regional office of the Belgian aluminium systems provider.
He says Reynaers' fireproof systems provide escape routes for all people inside the building for a minimum span of 30 or 60 minutes before the fire spreads in or outside the building. These also protect buildings in close proximity and limit temperature increase (for 30 or 60 minutes), thus protecting people on the other side of the fire.
Reynaers' CS 77-FP (EI30 and EI60) is an extension of the existing CS 77 profiles and accessories for doors and fixed windows and has been tested in an optimised European test and approval programme, with various types of fireproof glass, he points out.
"The fireproofing time span is achieved by inserting a special cooling material into the profile chambers, by using self-adhesive and water-resistant swelling gaskets and by integrating special glazing clips to keep the glass in position," says Khalaf.
The CS 77 fireproof range is available as inward and outward opening single and double doors, and as outward opening panic doors, combined with fixed window elements as well as glazed partition walls. This extensive range of configurations offers one of the widest choices of options and combinations for architects to work with. In addition, a large variety of accessories and locking devices is also available.
The CW 50-FP, meanwhile, also offers fireproofing time spans from 30 to 60 minutes. Khalaf says the 30-minute span on the CW 50-FP EI30 is obtained by inserting steel tubes in the mullions and by using fire-resistant swelling gaskets. And with the CW 50-FP EI60, the time factor extends from 30 to 60 minutes by adding a minimal cooling agent. Both the CW 50-FP versions can be used seamlessly next to the full CW 50 range as they are visually identical, Khalaf adds.
Among the projects where the CS 77-FP has been employed is the 68-storey, 273-room Four Seasons hotel in Bahrain where Reynaers provided a bespoke solution based on its CW 86-EF and CW 50-SC, CP 96 and CS 77-FP.
The same series have also recently been installed in the BNS Mall located in the heart of Beirut in Lebanon. In addition, the B11 Beirut is a luxury residential and retail development in the Lebanese capital that features this fire-rated variant.
Reynaers is a leading specialist in the development and marketing of innovative and sustainable aluminium solutions for windows, doors, curtain-walling, sliding systems, sun-screening and conservatories. In addition to an extensive range of standard products, the company also develops solutions that are tailored to individual projects. Research, product development and testing are conducted at the Reynaers Institute –which is believed to be the sector's largest private innovation and testing centre – located in Duffel, Belgium.
The company is the market leader in Belgium and has established a strong market position in the 40 countries where it has its own offices. In addition, Reynaers, which has around 1,700 employees throughout the world, exports to more than 70 countries on five continents.
RME's headquarters was established in Bahrain in 2004 to provide hi-tech aluminium architectural solutions for the growing construction needs of the region.
More Stories