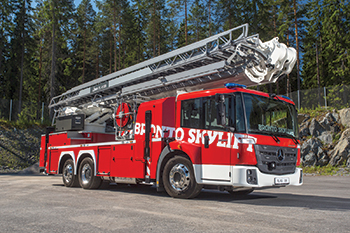 Low-pressure water mist system launched
March 2018
Bristol, a leading Dubai-based company in fire protection services and equipment, has unveiled an innovative new system that not only quickly and accurately extinguishes flames but also protects the surrounding environment from water damage.
The low-pressure water mist fire suppression system was showcased to leaders of the security and safety industry at the annual Intersec event, which was held from January 21 to 23 at the Dubai World Trade Centre Arena, Dubai, UAE.
Commenting on the product, Mahmoud Awad, managing director of Bristol, says: "The low-pressure water mist fire suppression system represents a really exciting step towards our commitment to breaking ground in the industry of fire protection as we believe that using water as a universal agent for fighting fires is the future. Not only is the system a revolutionary step forward in the way fires can be tackled and safely extinguished, it's a very versatile, operator- and environment-friendly system too."
The distinguishing feature of Bristol's dual fluid, low-pressure technology is its ability to atomise liquids into extremely small droplets and carry them on an air stream. By adjusting the nozzle design, water volume and air pressure parameters, qualities of the mists it generates can be controlled. This unique flexibility allows for creating optimal mist solutions for a broad range of applications.
The system atomises water at very low pressure, and this provides several advantages over high-pressure technologies as it is relatively low cost and allows the technology to be deployed as a portable hose reel device.
Delicate and non-toxic, the low-pressure water mist fire suppression system can also be used to 'envelope' a person threatened by fire to allow fire-fighting personnel to secure and rescue them while tackling a blaze.
Many industries will benefit from the application of optimal mist to tackle fires while leaving water-sensitive infrastructure undamaged such as chemical, computer, construction, defence, energy, manufacturing and mining industries, says Awad.
He adds: "We are sure that the Bristol system's 'dry' mist will impress as an alternative to traditional, water or chemical based firefighting techniques."
Alongside the Bristol low pressure water mist system, the company also showcased two new products from its vehicles manufacturing division.
The 'Mobile Ambulance Vehicle' drives straight into the future with the new generation of keypads control panels strategically placed for easy and safe access and fire-retardant materials utilisation for extreme fire hazard and safety during all kind of operations.
The second was the 'FL60XR sky-lift unit', the highest aerial platform in the world with ladders providing an horizontal outreach of 31.5 m with a maximum rescue cage load of 500 kg, and a top vertical height of 60 m. The transportation length of the FL60XR is less than 12 m, meeting general international regulations.
Displayed for the first time in the Middle East by Bristol, both vehicles offer creative design that considers customers' requirements without compromising on performance.
Bristol is also now an official member of the International Organisation for Industrial Emergency Response and Fire Hazard Management (JOIFF).
"A non-profit organisation, JOIFF is the global voice of the emergency response industry. The support of members means JOIFF continues to play an important role in sharing excellence in industrial emergency response techniques, shared learning, accredited training and technical advice," says Awad.
Bristol is the region's leading fire-fighting, ambulance, rescue and safety vehicle manufacturer.
More Stories