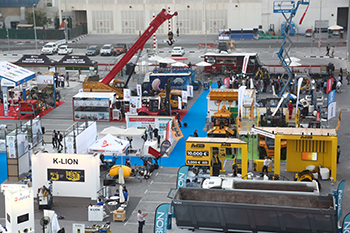 Heavyweights line up for revamped show
The Big 5 Heavy, a dedicated event for the heavy construction and concrete industry, will host more than 300 exhibitors and bring together major buyers and manufacturers.
March 2018
Leading global brands will line up at the Dubai World Trade Centre later this month (March 26 to 28) for the largest dedicated heavy construction and concrete industry exhibition in the region – The Big 5 Heavy.
Organised by dmg events Middle East, Asia and Africa, the event is a re-launch of the Middle East Concrete and PMV Live events.
The Big 5 Heavy is hosting more than 300 exhibitors from 27 exhibiting countries spread across five dedicated product sectors: Middle East Concrete, PMV Live, Foundations and Geotechnical, Mining and Quarrying and Road Construction. It is bringing a dedicated trade platform to property developers, local municipalities and government authorities.
"Concrete equipment, tower cranes, earthmoving machines, drilling and mining don't traditionally sit within a building materials show like The Big 5. There is a specific need for a standalone heavy construction exhibition that caters to the Middle East market," says Richard Pavitt, event director for The Big 5 Heavy.
The Big 5 Heavy is bringing together all the major buyers and manufacturers that are eyeing opportunities in the GCC's infrastructure expansion, which continues at a rapid pace despite recent headwinds, adds Pavitt.
According to the BNC Network report for The Big 5 Heavy, there are 22,902 active projects in the GCC valued at $2.4 trillion. This outlook further cements the crucial role of heavy machinery in building the skylines of tomorrow.
Ghaith Yaseen, managing partner for exhibitor Deewan Equipment Trading, comments: "The GCC states are the fastest developing countries in the world. Vision 2030 and Vision 2050 has placed time-based development plans in all sectors including infrastructure, housing, environment, transportation, technology and industry. The 26,500-sq-km Neom city in Saudi Arabia, Expo 2020, metros in various cities, Gulf rail and major development projects announced by oil companies are major opportunities for the sector."
Leading brands at the event include the world's largest construction machinery manufacturer Caterpillar, represented by Al Bahar; Cifa and Liebherr, which will showcase concrete pumps; and Caltex, the event's official Lubricant Sponsor, which will exhibit its premium range of lubricants for heavy machinery.
In the Concrete segment, exhibitors include AC Amadio & C, which will be showcasing formwork for large concrete decks; software firm ASa; Dr Schulze for drilling machines; Weckenmann, which will promote mobile battery moulds for precast concrete elements; and others.
In the PMV category, visitors can meet representatives of leading firms such as Batmatic with its compacting machines; Raimondi Cranes, which will promote the Raimondi MRT234 flattop tower crane; and Magna Tyres, which will put the spotlight on its MA02 designed for use on wheel loaders, articulated dumptrucks, scrapers and dozers.
And in the mining section, Interkraz will be showcasing roof bolts; and Shakti Mining, its SMAN cone crushers for secondary stage crushing, among other exhibitors.
There will also be a packed agenda of free-to-attend CPD (Continued Professional Development)-certified workshops in project management and quarrying and mining, as well as seminars and conferences. The conferences include the two-day Concrete Essentials Seminar Series by the American Concrete Institute (ACI); and the Geotechnical and Foundations Engineering Summit in conjunction with the Deep Foundations Institute and sponsored by Total Foundations Solutions.
The Big 5 Heavy is free to attend and runs all three days from 10 am to 6 pm.
Apart from Caltex and Total Foundations Solutions, the sponsors and partners supporting The Big 5 Heavy 2018 include Deep Foundations Institute (Geotech Knowledge Partner), Deewan (Concrete Equipment Sponsor), Hard Precast (Precast Sponsor), and Stevin Rock (Mining and Quarrying Sponsor).
More Stories