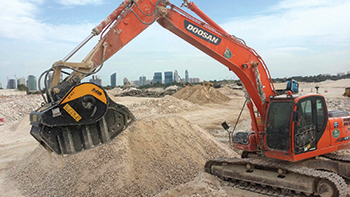 New MB crusher buckets in limelight
March 2018
MB Crusher of Italy will be showcasing its brand new series of BF 90.3 crusher buckets, MB-S18 screening buckets and the MB-R900 drum cutter at The Big 5 Heavy, being held from March 26 to 28 in Dubai, UAE.
The BF90.3 crusher bucket is suitable for excavators from 21 tonnes. It weighs 3.5 tonnes and offers a maximum hourly production of 42 cu m.
These products are ideal for infrastructure projects, says a senior official for MB which is closely involved with infrastructure development in the region.
"The GCC infrastructure market has an estimated value of over $400 billion and there are currently 1,246 ongoing projects in different stages of the construction lifecycle. For these reasons, The Big 5 Heavy is an event where MB Crusher will shine," says Najmeddine Sahraoui, deputy general manager of MB Crusher.
"With MB products, contractors have the advantage of being able to crush and screen the existing materials on site, eliminating the need to load demolished material onto trucks or dumpers and then take it to a waste dump. This also saves money on buying new materials. For road construction works, it's possible to crush the material and reuse it directly on site as granular sub-base, drainage filling and trench filling," he adds.
MB's attachments use the hydraulic system on excavators, skid-steer loaders and backhoes, providing the flexibility to work in tight areas, difficult-to-access locations, steep slopes and urban areas.
"Contractors will be able to move their plants wherever they need it, reuse materials immediately at the job site and provide an environment-friendly option in recycling waste materials," Sahraoui stresses.
The Seventh Ring Road in Kuwait City, Al Khor Expressway and 2022 Fifa World Cup stadiums in the Qatar, and the new metro in Riyadh, are only some of the many important infrastructure projects in the Middle East where MB crushers are making the difference, he adds.
At the Al Khor Expressway – a key project of the Qatar Expressway Programme by Qatar's Public Works Authority (Ashghal) – MB's BF 90.3 crusher bucket has been installed on a Doosan excavator.
Scheduled to be completed by the fourth quarter of 2019, the expressway project involves the construction of a five-lane dual carriageway in addition to 10 grade-separated interchanges, a fast cycling lane and shared path for both pedestrian and cyclists. A traffic diversion on the Al Khor Coastal Road will enable construction works on the Al Khor Expressway project.
The contractor working on the project is Al Maram company, which is operating the Doosan excavator.
"The excavated inert materials are crushed directly on site to create the road sub-base aggregate. The high-quality material obtained from the MB Crusher bucket is placed directly on the site to be filled in, thus speeding up working site operations," says Sahraoui.
The crusher bucket can be used for a wide range of applications, from road works, quarries and mines, environmental reclamations, rock applications, general building demolition, redevelopment of disused industrial and urban areas and the treatment of materials from digs.
MB Crusher has an ever-expanding range of strictly certifed attachments, suitable for any construction machines, that reduce costs, processing times and transportation of materials, while contributing to the environment.
"The Middle East is a dynamic market that is growing at a high speed. There are many infrastructure projects for the future where our machines will be imperative. MB attachments are the solution to all those scenarios," Sahraoui concludes.
MB Crusher will be exhibiting at Stand OS G30 at The Big 5 Heavy in Dubai.
More Stories