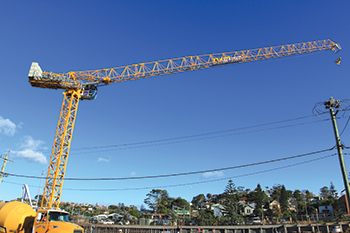 NFT to highlight new yard, Potain cranes
March 2018
At The Big 5 Heavy, tower cranes specialist NFT will focus on impressing visitors about the massive scale of its operations, in addition to promoting two of Potain's latest developments.
The UAE-based ISO-certified company is the sole dealer for Potain tower cranes (named the number one Potain dealer for Potain worldwide), GJJ/Orbit, and Pega hoists in the GCC and the Middle East as a whole.
Commenting on NFT's participation at the event, strategy and marketing manager Nagham Al Zahlawi says: "We would like to promote our new massive yard. We would also like to invite customers to see the different facilities we plan to build for reconditioning tower cranes."
NFT's new yard in Abu Dhabi's Al Dhafra area covers 300,000 sq m, around 80 per cent of which is allocated to its stock, while the rest will be occupied by the administration building and work stations.
At The Big 5 Heavy, NFT will also put the spotlight on two of Potain's latest developments: the MCH and the HUP.
"The MCH, the latest in the top slewing range, is a hydraulic tower crane where the luffing jib is generated by an exclusive new hydraulic cylinder. Power consumption is reduced because it requires a smaller generator than the conventional luffing mechanism," explains Al Zahlawi.
She adds installation of the MCH is much faster, which helps with cost saving while improving returns on investment (ROI).
Meanwhile, NFT is working with Manitowoc – which owns the Potain brand – to introduce the new HUP tower crane in the UAE. HUP boasts four main features:
• Versatility: It offers up to 16 configurations for more lifting options;
• Innovative movement technology: The jib unfolds over the top to save space under the crane when working next to buildings;
• Fully digital: A remote-controlled erection and piloting delivers convenient and secure operation;
• Higher ROI: Crane erection and dismantling is fast and easy with minimum operator effort.
Al Zahlawi anticipates good demand for the product in the market. "There are a lot of villas under construction and traditionally, these were built using a mobile crane or telehandlers. However, this is old-fashioned and self-erecting tower cranes can do the job with more lifting capacity," she points out.
NFT will also continue to promote the CCS range by Potain. "NFT has acquired a handful of CCS models for 2018 and this number is sure to increase as new projects are awarded," she says.
At The Big 5 Heavy, NFT aims to support its customers. "Towards this end, the company's CEO, sales and operations team will be present on all three days of the event to listen to and welcome customers at the stand," she adds.
NFT offers tower crane models ranging from the small self-erecting units with 700 kg/26 m capacity, to the giant, MD 3200, which can carry 26 tonnes at 85 m with a 64- to 80-tonne maximum load. Similarly, hoists models range from one- to four-tonne lifting capacity and with variable speeds, ranging from 36 m per minute to the world's fastest Pega hoist, with a speed of 120 m per minute and 3.2-tonne lifting capacity.
Describing the local crane market, Al Zahlawi says: "We have seen the evolution of the market for tower cranes. Today, rental is leading over sales. Our business model is currently 60 per cent hire and 40 per cent sales, and we were one of the first suppliers to introduce a rental model back in 1994."
A second trend in the market, she says, is the increased demand for used tower cranes, adding that NFT offers solutions for contractors to either repair or replace their machines.
Established in the 1980s in Abu Dhabi, NFT provides a wide range of tower cranes, passenger hoists, construction equipment, construction tools and other systems.
It has over 2,000 new and used tower cranes, over 500 hoists and a full stock of spare parts, which has earned it the rank of number one tower crane supplier in the world for four consecutive years (by IC Tower Index), Al Zahlawi says.
All products are backed by high quality services and safe work practices.
More Stories