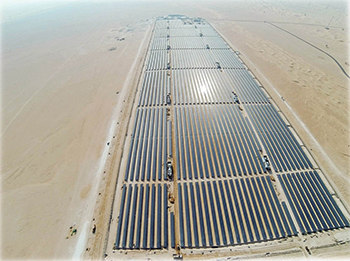 ib vogt starts work on Egypt solar plants
March 2018
Germany-based project developer, investor and EPC contractor ib vogt has begun the construction of a portfolio of three solar power plants with a total capacity of 166.5 MWp, at Benban in the Aswan Governorate of Egypt.
The contract was awarded under the second round of Egypt's Feed-in Tariff (FiT) programme. These are the first plants to begin construction in this round.
The project, being developed by ib vogt in partnership with Infinity Solar, Phoenix Energy and BPE Partners, achieved financial close at the end of October.
Construction on two of the solar power plants kicked off in January, while work on the third plant is set to begin later this month, says the German company.
The three projects extend over a total area of 270 hectares, on which approximately 500,000 solar modules will be mounted on horizontal tracking systems, it adds.
When the projects get completed early next year, over 400,000 MWh of electricity will be produced annually – enough to supply 55,000 homes and save 178,000 tons of carbon dioxide emissions per annum.
Once connected to the grid, the solar power generated by these installations will be supplied to the state-owned Egyptian Electricity Transmission Company (EETC) on the basis of a 25-year power purchase agreement (PPA).
Anton Milner, the managing director of ib vogt, says: "Following the successful construction and energisation of our 64 MWp Round One project in Egypt, we are pleased to announce the commencement of the build-out of our next three plants in this series and are proud that these are the first of the Round Two projects."
"We, together with our local partners, have demonstrated our strong capabilities to manage the complex issues in building these projects in Egypt, incorporating all stakeholders, local community and local specific requirements to deliver the projects," he states.
According to him, debt financing amounting to $146 million was secured for these projects.
Including the operational Round One project, ib vogt's overall portfolio within the Benban solar development complex will rise to 230.6 MWp, says the official.
"At 1.8 GWp, this solar power complex, located 650 km south of Cairo in the Aswan Governorate near the village of Benban, will be one of the world's largest solar complexes and is a crucial part of Egypt's plan to meet 20 per cent of its electricity demand through renewable energy by 2022," he adds.
More Stories