Saudi Focus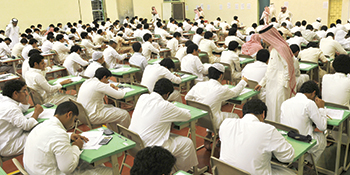 Over 1,600 schools to be built in kingdom
March 2018
The Saudi government will build and operate a total of 1,600 schools across the kingdom under a special project in partnership with private sector enterprises.
A total of 60 schools will come up in Makkah and Jeddah, reported the Saudi Gazette.
The largest project of its kind for the construction of school buildings will see a mix of kindergartens and primary, intermediate and secondary schools for both boys and girls being built in these cities, stated the report.
The project has been approved by King Salman, the Council of Economic Affairs and Development and the Ministry of Finance and will be supervised by the ministers of finance and economy and planning, the report said, citing the Minister of Education.
Ahmed Al Issa was speaking at a major conference on the investment opportunities available in partnership with the ministry to construct school buildings.
"We hope that the project will lure investors and businessmen to participate with us not only in this project but also in all the other projects which will soon be announced," said Al Issa.
More Stories