Saudi Focus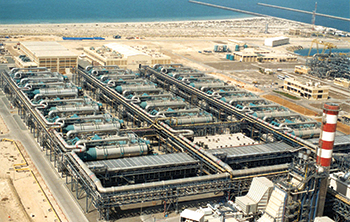 Investors sought for Rabigh IWP
March 2018
Saudi Arabia's Water and Electricity Company (WEC) has approved issuing of request for proposals (RFP) to invite private firms to take part in its Rabigh-3 IWP project which aims to boost desalinated water capacity in the Makkah region of the kingdom.
The independent water project (IWP) will be located south of Rabigh, on the Red Sea Coast, approximately 150 km north of Jeddah. It is being designed using reverse osmosis (RO) seawater desalination technology to produce the potable water, said WEC.
On completion, the facility will have a capacity of 600,000 cu m per day of desalinated water which is expandable to 1.2 million cu m per day net of potable water capacity, together with associated infrastructure and facilities.
WEC said it had initiated a competitive process to select a private firm or consortium for the development, financing, procurement, implementation, operation and maintenance of the big desalination plant.
Under a concession of 25 years, the project company to be incorporated to develop the project will sell its entire capacity and output to WEC under a water purchase agreement (WPA), it stated.
Banque Saudi Fransi is the lead financial advisor for the Rabigh-3 IWP project, while Alderbook Finance is the co-financial advisor. DLA Piper Middle East has been roped in as legal advisor and Fichnter GmbH & Co the technical adviser.
More Stories