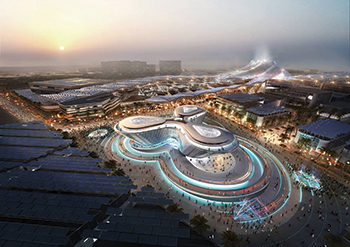 Expo 2020 'to boost building, real estate'
March 2018
Dubai Expo 2020 will play a major role as a driver of local entrepreneurial growth and have a huge positive impact across the construction and real estate sectors, said a report.
The emirate's far-reaching plans to carve an economic future built on innovation and forward-thinking ideas through the mega event are explored in a new report produced by the global research and consultancy firm Oxford Business Group (OBG).
'The Report: Dubai 2018' examines the key role that Expo 2020 will play as a driver of local entrepreneurial growth, while supporting the emirate's bid to become a regional startup hub.
OBG's publication also considers the positive impact that the huge initiative is set to have across the construction and real estate sectors, with heightened activity already evident in infrastructure, hotels, leisure and business facilities, transport projects, warehouses and homes.
The emirate's industrial expansion, which has become more pressing due to lower global oil prices, is another focus, stated the report, which charts the latest developments at the emirate's free trade zones, while also analysing the government's plans to encourage public-private cooperation on several targeted projects.
"Over time, we expect Dubai's plans for building the city of the future through several strategic public initiatives to have far-reaching knock-on effects across the emirate and beyond, paving the way for a more sustainable growth path which is in tune with the UAE's long-term development objectives," Oliver Cornock, the editor-in-chief and managing editor of OBG for the Middle East, said.
More Stories