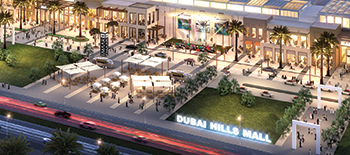 In Brief
March 2018
Alec secures Dubai Hills Mall solar project
ALEC Engineering and Contracting says its renewable energy business unit has been awarded a major contract by Emaar Development to develop a 6.5 MWp private solar power plant for its Dubai Hills Mall project.
The retail destination is the latest addition to the premier lifestyle destination at Dubai Hills Estate, and will feature 2 million sq ft of leasable space spread out over the ground and first floor levels, boasting more than 700 retail and food and beverage outlets, family entertainment, cinema and supermarket.
The solar power facility will include 24,000 solar panels on the mall's roof and is expected to produce 10.5 million kwh/units of electrical energy in a year.
With this move, the Emaar Development venture will be able to offset 4.62 milllion kg of carbon dioxide every year, which is the equivalent to 1,673 passenger vehicles driven for one year.
As per the deal, Alec Energy will carry out all of the system design, local approvals and construction and the plant will be built and commissioned in line with the construction programme and be ready to operate in time for the mall opening, it states.
Alec Energy general manager James Stewart comments: "We are excited to collaborate with Emaar Development on this exciting solar project. Solar energy is a smart choice and has financial and environmental benefits especially in large malls which are large consumers of power."
L&T wins $342m Abu Dhabi field development deal
IndiaN engineering and construction firm Larsen & Toubro (L&T) says one of its key subsidiaries has won an EPC (engineering, procurement and construction) contract worth more than $342 million from the UAE-based Al Dhafra Petroleum Operations Company.
Al Dhafra Petroleum is a joint venture between Abu Dhabi National Oil Company (Adnoc) and Korea National Oil Corporation (KNOC) and GS Energy, which is represented by Korean Abu Dhabi Oil Consortium (Kadoc).
As per the deal, L&T Hydrocarbon Engineering (LTHE) will provide engineering, procurement, construction and commissioning of flow lines besides gathering facilities and pipelines to transfer crude oil and gas from Haliba fields to processing facility at Asab.
The L&T unit will also help in the installation of 132 kV and 33 kV overhead electrical transmission lines for the supply of power. The order reinforces LTHE's capability to deliver 'design to build' engineering and construction solutions across the hydrocarbon spectrum, says the Mumbai-based builder.
L&T has been serving the onshore hydrocarbon sector since early 1990s. The company's track record includes successful completion of several challenging projects for domestic and international clients, it adds.
EEE to set up Akoya Oxygen substation
Emirates Electrical Engineering (EEE) has been awarded a major contract by Damac Properties for the setting up of a third 132/11 kV substation at its 55-million-sq-ft master community, Akoya Oxygen, in Dubai, UAE.
The new substation, which will feed power to a further 2,888 villas and 855 apartments, is expected to be commissioned within two years.
This is the third contract awarded by Damac for the construction of substations at Akoya Oxygen, and is the first for EEE, following previous substation builds by ABB and Jazeera Emirates, says the company.
Located off the Umm Sequim Road extension and 15 minutes from Damac Hills, Akoya Oxygen will include contemporary residential properties of various sizes surrounding an 18-hole championship golf course.
"This is the first major contract to be awarded in 2018 as we continue to accelerate construction development at Akoya Oxygen, to provide electrical supply for all residential units in phases Six, Seven and Nine," remarked Mohammed Tahaineh, the senior vice-president (commercial) Damac Properties. "We are making positive progress with construction efforts at Akoya Oxygen and across all our developments, with more than Dh3.5 billion ($952 million) in contracts awarded in 2017 alone."
Damac's flagship master community, Akoya Oxygen offers a tranquil environment with lush, green surroundings in a secluded, family-friendly community, with energy-efficient homes surrounded by beautiful landscaping and cascading water features.
More Stories