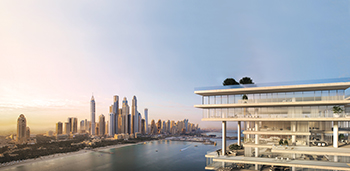 City of dreams
Dubai's expansion is awe-inspiring. The incredible structures that lace its skyline, its seamless infrastructure, and economic diversification plans continue to afford growth opportunities for its construction sector and economy as a whole.
April 2018
Dubai is looking to prove yet again that "If you build it, they will come". The city that never tires of announcing new projects – each surpassing the other in scope and enormity – is expanding both horizontally and vertically as the D-day nears for the biggest event in Dubai's history.
Despite the air of caution in the real estate sector, there is no dearth of new projects targeting the growing population and the buzz surrounding the Expo 2020, which the emirate is set to host, is propelling investment in the hospitality sector. In fact, giving one big thrust to the real estate sector, two giants of the industry in the UAE – Emaar and Aldar – have set up a $8.17-billion new investment platform that will see massive projects in both Dubai and Abu Dhabi (See Page 22).
The once-remote Dubai South (previously known as Dubai World Central) and its environs are today a hub of activity in preparation for the Expo 2020 Dubai, a global event that will showcase human ingenuity for six months in just two years from now (See Page 48).
In fact, the emirate can stake claim to being the epitome of ingenuity, given that within its 4,114-sq-km expanse within the Arabian Desert, it has built and continues to develop a veritable showcase of real estate masterpieces that aim to outclass their global counterparts.
Already home to Burj Khalifa, the world's tallest tower, Dubai is now building an iconic structure that will surpass its height by at least 100 m. The Santiago Calatrava-designed landmark observation tower in the heart of the 6-sq-km Dubai Creek Harbour – itself a massive development – is being built at a cost of $1 billion in time for the Expo 2020.
The emirate's list of ongoing world 'first' or 'largest' projects is extensive. For instance, the world's largest single-site solar project, the Mohammed bin Rashid Al Maktoum Solar Park, is taking shape in Dubai; the first 'nature-inspired' shopping destination is being built by Cityland Mall by UAE-based Cityland Group; the largest space stimulation city, the Mars Science City project, will be built over a 1.9-million-sq-ft area near Dubai; the world's first tropical rainforest in a skyscraper hotel will come up at Rosemont Hotel and Residences Dubai; the world's longest indoor ski slope is planned for Meydan, in Mohammed bin Rashid City; Ain Dubai, the world's largest Ferris wheel, is nearing completion at Bluewaters Island development; and a giant food park and the first-of-its-kind project is planned to be built near the Expo 2020 site.
Developers in the emirate are now compelled to push the envelope and boast exclusivity to retain a competitive edge in the market.
As Talal Moafaq Al Gaddah, CEO of MAG Lifestyle Development, comments: "Anyone working in the UAE property market can see that the sector has reached maturity and that sustainable growth is now being achieved. The question now is how to remain on this upward trajectory, which is an endeavour that will require developers to go beyond simply constructing buildings. It is now time to do more, to think bigger, and to outdo ourselves."
In line with these trends, Saudi-based Dar Al Arkan is entering the Dubai market with the launch of its 'I Love Florence' tower that will be the first real estate development in the world to which fashion designer Roberto Cavalli has lent its name.
The Marasi Business Bay area will include the UAE's first-ever homes on water with pedestrian and boat access and the longest waterfront promenade. Damac Properties and the Roberto Cavalli Group will launch the world's first villas to feature interiors with the "Just Cavalli" signature-style. Marine Park will be a first-of-its-kind marine life edutainment centre in the Middle East that will mark the entry of the world-renowned show Cirque du Soleil into the Middle East. Sweid & Sweid has partnered with global hospitality brand Banyan Tree to build the region's first Banyan Tree Residences project in Dubai. MAG is developing MAG Creek Wellbeing Resort, the first wellness-inspired development in the Middle East.
All these projects and several more that the government itself is spearheading to support this massive growth is positioning the UAE as one of the best performing construction markets globally. According to BMI Research, Expo 2020 will be the main driver of short-term growth in the UAE, as investment inflows stimulate project activity and drive outperformance in Dubai's commercial building segment. More broadly, a growing population and economic diversification initiatives will require broad-based investment across the infrastructure spectrum, says the global research firm in its latest infrastructure report on the UAE.
Apart from work on the 4.38-sq-km Expo 2020 site, a new extension to the Dubai metro is under construction as is work on an urban community development adjacent to the Expo 2020 site. Dubai South Residential District will have around 10,000 residential units – comprising villas, townhouses and apartments – by 2020, to house an estimated 35,000 residents.
BMI Research forecasts real growth of 8.9 per cent and 9.7 per cent in 2018 and 2019, adding that a large urban population and a high GDP (gross domestic product) per capita will ensure demand for infrastructure remains robust over the coming years.
An active real estate market and government-supported infrastructure spending in transport and utilities will continue to provide construction growth opportunities, it adds.
Among the strengths of the emirates are the comparatively clear regulatory environment and the governing of private investments in infrastructure, which create a favourable investment climate. BMI Research also points out that state-owned utilities are willing to take on majority equity stakes in projects and provide government guarantees in a bid to attract investors. The research firm adds that Dubai's public-private partnership law passed in 2015 should stimulate greater private sector involvement in its construction market.
BMI Research, however, cautions that many projects, especially megaprojects are announced, but relatively few ever come to full realisation.
That said, Dubai's thriving tourism sector is driving huge numbers of foreign investors in its real estate sector with several developers testing the market with properties that appeal to people seeking to invest or just looking for a second home, for instance, in a golfing community, a waterfront location, a wellness resort or a luxury brand. According to the Dubai Land Department (DLD) figures for 2017, while UAE investors led the list of nationalities investing in Dubai's real estate, Indian investors stood second by investing Dh15.6 billion (Dh12 billion); Saudis came in third place with investments exceeding Dh7 billion, followed by British and Pakistanis whose investments amounted to Dh6 billion and Dh5 billion respectively. Other active investors include Chinese, Jordanians, Egyptians and Canadians.
Power & Water
To power this massive growth, particularly of the real estate sector, requires substantial investment in infrastructure and utilities. Dubai Electricity and Water Authority (Dewa) intends to invest Dh81 billion over the next five years to meet the energy needs of the emirate. The focus is also on launching projects in clean and renewable energy infrastructure.
Among such projects is the clean coal power plant in the Hassyan area, the Mohammed bin Rashid Al Maktoum Solar Park and the hydroelectric power station that make use of the water stored in the Hatta dam, and the development of an island to store hydropower.
Dubai last month launched work on Phase Four of Mohammed bin Rashid Al Maktoum Solar Park, the biggest concentrated solar power (CSP) project in the world. This CSP project will generate 700 MW of clean energy and features the world's tallest solar tower measuring 260 m and the world's largest thermal energy storage capacity. The entire project will provide clean energy to over 270,000 residences in Dubai, reducing 1.4 million tonnes of carbon emissions a year. The 13-MW photovoltaic first phase of the project became operational in 2013. This was followed by the 200 MW photovoltaic second phase in March last year. The 800-MW photovoltaic third phase will be operational by 2020, and the first stage of the 700 MW CSP fourth phase will be commissioned in the fourth quarter of 2020 (See Page 28).
Dubai also plans to have a new deep-tunnel sewerage system costing around Dh30 billion ($8 billion) by the year 2025 as part of efforts to meet long-term needs for waste water collection, treatment, reclamation and disposal.
Dubbed the 'Development of the Century', the project should save millions of dirhams worth of maintenance costs and contribute to providing millions of cu m of irrigation water for the mega projects set for execution over the next years in the emirate, reported Wam, the UAE's official news agency.
Roads & railways
The government of Dubai is in the midst of building multiple urban transport projects in preparation for hosting the World Expo in 2020.
Dubai's Roads and Transport Authority (RTA) announced at the end of last year that it aims to complete key infrastructure projects worth Dh3.2 billion ($871 million) in 2018 including the upgrade of the roads network around Dubai Expo site and Route 2020 Project (See Page 57).
According to Mattar Al Tayer, the director-general and chairman of the board of executive directors of the RTA, the allocations for infrastructure projects in 2018 budget has received "a healthy increase in as much as 46.5 per cent to account for 21 per cent of the total budget, which compares well with 17 per cent in 2017 budget."
Real Estate
According to leading international real estate consultancy Cluttons, recent geopolitical developments on the regional front and new residential legislation in Dubai – with a prime focus on affordable housing – are both likely to impact the emirate's property market.
Faisal Durrani, the head of research at Cluttons, says: "Overall market conditions in the emirate have been relatively healthy. Going forward, we see regional developments and local legislation playing a big part in Dubai's property market. We believe that the Dubai Government's initiative to focus on affordable housing is extremely positive and is a watershed moment for the emirate. The change will help Dubai avoid some of the lessons learned by more developed cities around the world, especially with regards to curtailing the emergence of poorly connected, low-income neighbourhoods that are segregated from the rest of the city, as is the case in many other global metropoles."
While it may be argued that Dubai has reached its point of saturation in the real estate sector, the emirate has continued to witness the launch of some awe-inspiring developments. For instance, the UAE-based Loulouat Al Sharq for Investment and Real Estate Development recently unveiled plans for its ambitious Knooz Al Sharq City, a mixed-use community development in Dubai. The Dh7-billion ($1.9 billion) city – the largest of its kind in the mixed-use sector – will be constructed over a 20-million-sq-ft area.
Key developers such as Emaar, Nakheel and Dubai Properties continue to press ahead with their landmark projects while the developer that has been hitting headlines with regular frequency is Azizi Developments, which has unleased a string of projects throughout the emirate (See Page 52).
A look at the latest updates on some of the key projects under way in Dubai:
• Mohammed Bin Rashid Al Maktoum City – District One: Work is in full swing on luxury low-rise apartments under Phase Three of District One, the first residential district in Mohammed Bin Rashid Al Maktoum City according to its developer the UAE-based Meydan Sobha, a joint venture between race track developer Meydan and real estate company Sobha group. Enclosed by green natural surroundings, the community claims to present one of the lowest-density villa and apartment developments in the heart of any international city.
Work is also in progress on Phase Two, following the completion of the first phase.
District One is situated next to the spectacular Meydan One, a leisure, commercial, and entertainment destination which will host the world's tallest residential tower, the tallest observation deck, the longest indoor ski slope and the largest dancing fountain as well as the Meydan One Mall.
• Dubai Creek Harbour: Al Naboodah is building Creekside 18, a waterfront residential project comprising two 37-storey residential towers in Dubai Creek Harbour being developed by Emaar Properties in a joint venture with Dubai Holding.
The Dubai Creek Harbour Development has a gross floor area of 113 million sq ft and will feature residential developments, services apartments, villas, branded hotels and a lifestyle retail district. The development comprises nine districts with a 30-year phased build-out. Emaar estimates building 2,000 units per year over the first five years. Key structures will include a tower that will exceed the height of Burj Khalifa, a mega retail district, a sanctuary development with exclusive villas and a canal district.
• Marasi Business Bay: Construction work is under way on Phase One of Marasi Business Bay located on the Dubai Water Canal. The area will include the longest waterfront promenade in the emirates and the UAE's first-ever homes on water with pedestrian and boat access. Dubai Properties last month officially launched Marasi Marina, the first fully-operational jetty at the Dubai Water Canal, making it the only marina in the heart of the city (see Page 26).
• Bluewaters Island: Meraas, which is developing the Bluewaters Island project, recently showcased mock-apartments at Bluewaters Residences. This development will comprise four penthouses, 17 townhouses and 10 mid-rise residential buildings featuring 698 one- to four-bedroom apartments. The island will host the world's tallest Ferris wheel (Ain Dubai), over 200 retail and dining outlets, hotels, and a vibrant plaza (See Page 22).
• Deira Islands: Master developer Nakheel and Spain's RIU Hotels & Resorts have signed a contract worth Dh385 million ($105 million) for the construction of a 800-room beachfront resort and water park at Deira Islands. Set for delivery in 2019, the resort, which has a total investment value of Dh670 million, will be built by Binladin Contracting Group Dubai.
Nearby is Deira Central, Nakheel's mixed-use community with the upcoming Deira Mall as its centrepiece (See Page 54). Deira Islands Night Souk is also within easy reach.
• Uptown Dubai: DMCC has signed up Dubai-based contractor HLG to build the concrete raft foundation for one of two super-tall towers that will anchor the 10-million-sq-ft Uptown Dubai, a premium mixed-use destination with seven towers atop seven levels of podium. The tower will boast a five-star hotel and branded luxury residences, restaurants, health spas and Grade A offices.
• Royal Pearls: Work is under way on the Dh21-billion ($5.7 billion) Royal Pearls luxury project being developed by Oriental Pearls Real Estate Developers at Meydan community. The 4.6-million-sq-ft masterplanned development has close to 8,000 choice freehold apartments and is targeted for completion by 2022, says the developer.
• Dubai Hills Estate: Emaar Properties intends to build a new mall in Dubai Hills Estate, one of the largest master-planned communities being developed in Dubai, in joint venture with Meraas.
Scheduled to open in late 2019, Dubai Hills Mall will feature a leasable area of 2 million sq ft on two levels, more than 750 retail and food and beverage outlets, and family entertainment facilities.
Dubai Hills Estate includes a championship golf course and a central park surrounded by 4,400 villas and townhouses, and 22,000 apartments.
• World Islands: Limitless, the property development arm of the Dubai World group of companies, has plans to build a $350-million health resort on the tropical island of Siberia – part of The World Islands project 14 km off the coast of Dubai.
The resort will include 53 villas and water homes, of which 23 privately owned villas, ranging from 650 to 820 sq m, will be offered for sale by invitation.
Hotels
Dubai continues to lead the region with its strong pipeline of hotels under construction, with some 29,226 hotel rooms in 95 projects in various stages of planning, according to analysts STR Global.
The emirate witnessed the opening last December of the showpiece Bulgari Resort Dubai on the exclusive, man-made island on Jumeirah Bay. The 158,000-sq-m property is a first-of-its-kind development for Bulgari, both in scale and magnitude. Among the landmark hotel projects under way are a 600-room Centara beachfront resort and waterpark; an 800-room RIU Hotels & Resorts property at Deira Islands; Raffles The Palm Dubai Hotel at the Palm 360 on Palm Jumeirah; and Rosemont Hotel and Residences Dubai (See Page 96).
More Stories