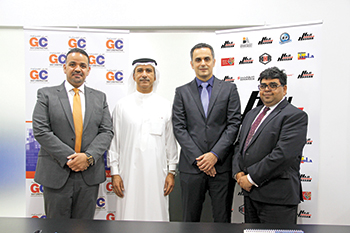 HHG to showcase diverse portfolio
April 2018
Haji Hassan, a diversified construction-focused group and strategic sponsor of the Gulf Construction Expo, will showcase the wide porfolio of its group companies that cater to the gamut of requirements of the construction industry.
The Haji Hassan Group of Companies (HHG) will be represented by Haji Hasan Ready-mix, Bahrain Precast Concrete, Bahrain Asphalt, Bahrain Pipes, Arabian Chemical Industries, Bahrain Blocks, Haji Hassan Reinforcement and Arabian Parts Company.
HHG is headquartered in Bahrain with joint venture partnerships across the GCC. The group is a conglomeration of complementary businesses which have been serving the construction and industrial services sectors in Bahrain and the region since 1952.
The group manufactures building materials, precast concrete, readymix concrete, plastic and sewage pipes, construction chemicals, concrete blocks, steel reinforcement, rubber and mechanical engineering spare parts, all of which are essential for the construction sector.
Commenting on the group's sponsorship of the event, Haji Hassan Group deputy chairman Waheed Hassan Al A'ali says: "Our Strategic Sponsorship support for Gulf Construction Expo delivers on two goals for the company. Firstly, we look to promote the world-class capabilities of Haji Hassan which has been built on over 60 years of expertise and investment in our facilities; and secondly, we see Gulf Construction Expo as an important showcase to present Bahrain as a leader in quality building materials."
The group has an impressive track record of delivery on high-profile construction projects in Bahrain. These include Bin Faqeeh's Breaker Tower, Awali Mosque, Shaikh Isa Library, Sitra Causeway, Durrat Al Bahrain, the North Manama Causeway, runway upgrades and new apron stands at the Bahrain International Airport, Bahrain International Circuit, Muharraq sewage treatment plant, Ritz-Carlton Hotel, Al A'ali shopping complex, the Sofitel Bahrain luxury resort hotel and many more.
More Stories