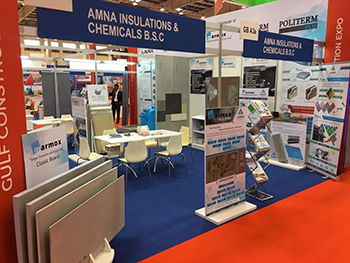 Amna leads Green Technology Sector
April 2018
Amna Insulations and Chemicals, a division of Al Mezal Group of Companies, is taking the lead as it showcases its smart, energy-saving, environment-friendly products and solutions for the construction sector at the Gulf Construction Expo.
The Green Technology Sector Sponsor, which is returning to the show this year, is looking at greater exposure for its innovative technologies to a wider audience in Bahrain through this event.
Amna Insulations' executive director Sulaiman Al Mezal says: "Our support for Gulf Construction Expo is based not just on the business value that it provides our company and products. As the Green Technology Sector sponsor, we will be leading on an issue that is growing in importance for the GCC's construction sector, which concerns the impact of materials used in the construction sector on the environment.
"This impact is not only on what is installed today but alos the long-term degradation of building materials and their effect on our environment. We are delighted that Gulf Construction Expo has the vision to promote these issues because they impact on future generations living in the GCC."
At Gulf Construction Expo, Amna Insulations will be offering green technology solutions such as the LGS Construction System – which is newly developed with its own in-house modifications; Marmox Multiboard, the world's lightest construction and insulation board; Marmox External Thermal Insulation System; Politerm Light Concrete, the lightest thermal insulating concrete in the world; and Pleko Systems, an external insulation and finishing system. Being energy efficient, these products have a major impact on the environment, he adds.
Commenting on the new LGS Construction System, which the company is launching at the exhibition, Sumeet Daga, head of business development and operations, says: "LGS buildings are designed using specialist computer-aided design and engineering software and manufactured by rolling or pressing steel into semi-finished or finished goods at an ambient temperature.
Amna has developed a high-quality external and internal cladding system for LGS by using its patented construction boards Marmox Multiboard and Politerm as infill material, offering improved quality, speed of construction, design flexibility and environmental performance.
"These modern methods are financially attractive alternatives to slower, resource-heavy traditional methods of construction, such as timber, concrete and hot-rolled steel," he continues.
He adds LGS has significant environmental benefits over traditional methods. "LGS has the innate characteristics of steel such as non-combustibility, termite and mould resistance and dimensional stability. LGS is a practical solution to many of the challenges faced in traditional building methods currently used in Bahrain," Daga adds.
During its participation in the Gulf Construction expo last year, Amna received very good response.
Amna has expertise in supply and application of external thermal insulation, roof insulation and car-park ceiling insulation systems, lightweight concrete, and LGS building construction; in addition to supply of tile backer boards, shower trays, bathroom solutions, and construction chemicals.
Amna saw its revenue increase by 25 per cent last year and is now considering setting up a manufacturing unit for LGS building system.
The company has undertaken numerous projects, including residential and mixed-use buildings, villa extensions and showrooms. These include a 10-storey residential building and 400 villas for the Ministry of Housing.
Amna Insulations will be at Stand GC A2b at the expo.
More Stories