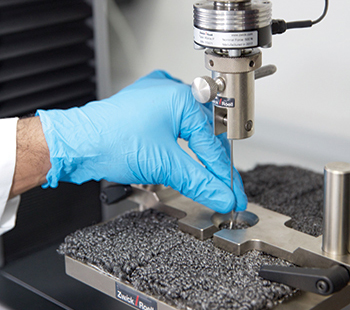 Wacker dispersions act as strong carpet binders
April 2018
VAE dispersions of Wacker Chemie's Vinnapas brand are increasingly being used instead of traditional latexes as binders for bonding carpet backing, as well as for high-quality wood glue and water-based flooring adhesives.
Wacker last year expanded the service portfolio of its technical centre in Dubai, UAE, to also include a dedicated laboratory for polymer dispersions needed as binders for adhesives and carpet applications.
The region's increasing growth potential, particularly with regard to carpet and energy applications, prompted the expansion of the local facility, according to a company official.
"We are proud to say that our facility is the first in the region to offer both technical support and testing services for carpet manufactures, plus an ISO-certified silicones lab for high-quality, energy and mould-making applications," explains Cyril Cisinski, managing director Wacker Chemicals Middle East.
He says the focus of the new polymers lab is on providing technical support for formulations with vinyl acetate-ethylene copolymer (VAE) dispersions to meet the growing local demands of customers in the carpet and adhesives industries.
Wacker's state-of-the-art technical centre is located at Dubai Silicon Oasis technology park, where it has five dedicated laboratories to support customers in the Middle East and Africa markets in the paints and coatings, construction, energy mould-making, carpet and adhesives industries.
Wacker Chemicals Middle East can provide technical and sales support to carpet manufacturers in the region.
According to a company spokesman, Wacker's modern generation of VAE copolymer dispersions provide carpets with tuft bind and delamination strength that readily compete with carpets backed with styrene-butadiene (SB) latex.
"Like SB latex, VAE dispersions consist of two building blocks, in this case vinyl acetate, which delivers stiffness, and ethylene, which provides flexibility. By varying the ratio of the two monomers, it is possible to adjust specific application properties, such as hand feel of final carpet. The ethylene component in the Vinnapas carpet backing dispersion internally plasticises the products and results in inherently high adhesive strength, which maintains good flexibility, allowing VAE to be used, for example as a precoat layer and/or secondary coating in tufted carpet applications," he explains.
The spokesman points out that in recent years, health concerms have been raised on the use of SB latex. Therefore, various carpet companies across the globe started using a backing based on VAE. "The advantages of using VAE include an odourless carpet and lower emissions of volatile organic compounds (VOCs), as tested by the German Testing & Flooring Institute GmbH (TFI). The reduced flammability, another feature of the VAE dispersion, makes ideal in commercial locations such as hotels and offices where fire safety is a high priority," he says.
Meanwhile, Wacker was recently at the Middle East Coatings Show (MECS) in Dubai where it showcased different binders for water-, heat- and stain-resistant coatings for the first time in the region.
Amongst the products displayed were Silres Ren70-M, the phenyl methyl silicone resin that offers extreme thermal stability of up to 600 deg C; the hydrophobic Vinnapas 760 ED dispersion that ensures excellent tensile adhesion strength after prolonged exposure to water; and the Primis SAF 9000 dispersion that is both oil-resistant and hydrophobic, making wall paints stain resistant.
The company also participated in the Paint Istanbul last month (March 22 to 24) in Turkey.
More Stories