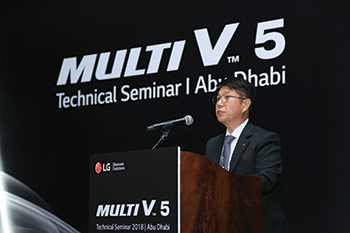 LG launches new VRF solution
The Multi V 5 system aims to make climate control technology more accessible, while providing savings and enhanced comfort.
April 2018
LG Electronics has released its new Multi V 5 variable refrigerant flow (VRF) solution in Abu Dhabi, UAE.
The latest model in the Multi V range offers streamlined functionality by optimising energy efficiency and maximising user comfort, making it suitable for new residential and commercial developments in the region.
At the launch, Yong Geun Choi, president, LG Electronics Gulf, commented: "We are proud to bring our fifth-generation VRF system to the UAE's bustling capital city. We are confident that with the range of innovative technologies, unparalleled energy efficiency and comfort, the Multi V 5, our new flagship air-conditioning system, will be the ideal choice for climate control solutions in Abu Dhabi.
"This industry-leading system will make advanced climate control technology even more accessible, passing on excellent operational savings and greater comfort to our customers across the globe."
LG has already supplied several projects of top-tier developers and government agencies with the latest climate control solutions, including Aldar, Musanada, Tourism Development and Investment Corporation (TDIC), CPC, Bloom, Al Qudra, Abu Dhabi Commercial Engineering Services (ADCE) and other renowned names in Abu Dhabi. It has also been a crucial partner with various government agencies, consolidating its position as a leader in providing comprehensive climate control solutions that meet Abu Dhabi's stringent standards, a company spokesman said.
The LG Multi V 5 is claimed to be the only advanced VRF system in the market that is capable of offering exceptional performance even in the heat and humidity of the region. The system uses improved technologies that can meet new sustainability and energy-efficiency requirements of new real estate projects, and offer the most advanced climate control solutions.
Also present at the launch was Abdalla Hassan Al Muaini, executive director of conformity schemes services sector at Abu Dhabi Quality & Conformity Council (QCC), who said: "One of QCC's main goals is to contribute to the sustainability of energy sector in Abu Dhabi through the development and implementation of exacting quality requirements for many products including cooling systems. Which is why QCC is proud to be a part of this launch with LG in recognition of the high-quality air-conditioning units they have made and continue to introduce to the region."
The Multi V 5 is equipped with LG's innovative and proprietary Dual Sensing Control and Ultimate inverter compressor, making the Multi V 5 a powerful climate control solution that excels in extreme conditions, the spokesman said.
The Multi V 5 is a superior way to heat and cool any space, with improved humidity control, individual set points per indoor unit, large outdoor capacity and quiet operation. It also allows for heating and cooling simultaneously in different zones, further enhancing energy savings and comfort.
The impressive Dual Sensing Control helps the air-conditioning unit evaluate climate conditions down to the smallest detail. Unlike conventional air-conditioners which only track temperature, it measures both temperature and humidity levels for outdoor and indoor environments. This comprehensive understanding of multiple climate conditions helps the solution determine its parameters in order to achieve optimal energy efficiency and maximum indoor comfort levels, he said.
The new Ultimate inverter compressor offers high efficiency, reliability and durability. Improving on the 15 to 150 Hz operational range of its predecessor, it operates from 10 Hz to 165 Hz. This widened range increases part load efficiency and enhances the Multi V 5's ability to quickly reach the desired temperature and save more energy in the process, the spokesman explained.
The Multi V 5 features an enhanced bearing system layered with Peek (polyether ether ketone), an advanced material normally used in airplane engines. In addition, its Smart Oil Management uses sensors to check the compressor's oil balance in real time, minimising unnecessary oil recovery operation.
With an innovative biomimetic fan, four-sided heat exchanger, and improved compressor performance, the Multi V 5's efficiency and capacity have each been enhanced, making it possible for a single outdoor unit to reach 20 hp (with a maximum system capacity of 60 hp).
Utilising research from the Seoul National University's Department of Mechanical and Aerospace Engineering, the engineers behind the Multi V 5 drew on inspiration from humpback whale flippers when designing the fan. Moreover, the solution's advanced biomimetic fan significantly increases wind capacity.
More Stories