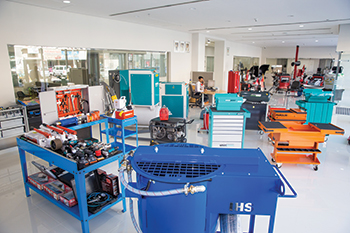 KAIE on growth path, gets new office
April 2018
Bahrain-based Kanoo Automotive & Industrial Equipment (KAIE) has moved into a larger, custom-designed office to meet the increasing demand for its services and accommodate its ever-expanding products portfolio.
After taking on board new brands and the recent rebranding of the company, KAIE clearly needed more space to expand and grow, KAIE sales manager Sudhindra Kalibhat told Abdulaziz Khattak during an exclusive tour of the new offices.
Occupying two floors of a brand-new four-storey building in Tubli, the classy new offices spread over 26,910 sq ft and endorse the investment that has gone into KAIE, which has expanded extensively – from automotive to industrial equipment in just a few years – and is ready to accept more business.
"The new office brings our entire team under one roof. There is four times as much space for the showroom and much more space in the offices. The warehouse is also in the same building," said Kalibhat.
On the ground floor of the new building are KAIE's administration office, automotive and industrial equipment showroom, a Stahlwille-certified torque wrench calibration room, and a warehouse, while the entire first floor level is dedicated to a second warehouse.
The large showroom houses brands from over 10 categories, including those from renowned companies like Hunter and Snap-on (US) for automotive equipment; Renner (Germany) and Mr Tech for compressors; IHS tools (Australia) used in post-tensioning; SPX pumps (US); tool box sets from Parolin (Italy), Whirlpower (Taiwan) and Stahlwille (Germany); and Sortimo (Germany), a manufacturer of in-vehicle equipment, to name a few.
Elaborating on some of these products, Kalibhat says tool sets from Sortimo can be installed in trucks or trailers to turn them into mobile service stations. In fact, Sortimo has supplied a container fitted onto a trailer to the Saudi traffic department that provides all service facilities on the go.
Meanwhile, tool box sets from Stahlwille come with a special tool control system (TCS), which allows technicians to identify a missing tool. This is especially useful in the aviation industry, where every tool has to be accounted for, said Kalibhat. These tool sets can be used in both automotive and industrial applications.
Also displayed at the showroom is a compact tool set box designed for aircraft maintenance, which can be easily moved through the aircraft aisle.
A key highlight of the ground floor is the Stahlwille-certified calibration room for torque wrench calibration. Kalibhat said KAIE can now offer third-party certification and calibrate torque wrenches, from 10 to 1,000 Nm range, for the aviation, industrial and automotive sectors.
The ground-floor warehouse is where KAIE stores its heavy equipment, including certified heavyweights for load testing of cranes, goods lifts, passenger lifts, etc. The company is in the process of fabricating special buckets to store the 2.5-tonne weights used in load testing of cranes.
KAIE also supplies cranes of various tonnage capacities.
The warehouse facility is built with a state-of-the-art dock leveller to enhance the receiving and delivery system to the highest safety standards. The facility has a dedicated technician room and workshop for electronic and minor tool repairs.
The warehouse on the second floor stores parts and consumables required for the company's equipment, including the special service tools (SST) required to calibrate and set up KAIE equipment.
"These SSTs are not available in the market. So when we buy a piece of equipment, we buy the SSTs required as well," said Kalibhat.
There is a 25-slot car-park in front of the building to provide ample parking space for staff and visitors.
In addition to providing products, KAIE helps customers design their entire workshops and also offers training in operating KAIE equipment. The company also helps SMEs (small and medium enterprises) select the right products to develop their respective business through Tamkeen programme.
More Stories