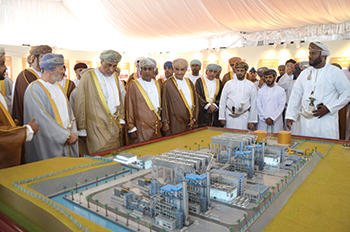 $465m Salalah 2 IPP plant launched
April 2018
The greenfield Salalah 2 IPP (independent power project), with an aggregate capacity of 445 MW and an investment of $465 million, was inaugurated by Acwa Power in Salalah, Oman, last month.
The event was held under the patronage of Sayyid Shihab bin Tariq Al Said, advisor to His Majesty Sultan Qaboos bin Said Al Said, who was accompanied by high-level dignitaries, including government officials and other senior public representatives.
The plant consists of four gas turbines with four heat recovery steam generators and two steam turbines, and was completed ahead of schedule with zero hours of lost time injury.
Thamer Al Sharhan, managing director at Acwa Power, said: "We are pleased to launch the Salalah 2 IPP project, a significant milestone which adds to our portfolio in Oman. The project has enhanced the efficiency of Oman's power grid, and 23 per cent of the project budget was allocated to local companies and contractors, contributing significantly to the local value chain. The project's completion was achieved with the support of engineers and technicians from Oman."
The project recorded 6.4 million hours of safe work in all stages of development with zero injuries or accidents, and was accomplished ahead of time, with the highest level of quality, safety, and security, said Acwa Power.
Paddy Padmanathan, president and CEO of Acwa Power, said: "We are pleased to have achieved commercial operations ahead of schedule and to begin to supply much-needed additional power to the region. Power demand in Oman is rapidly increasing and we look forward to continuing our work with OPWP (Oman Power and Water Procurement Company) and our partners to reliably and cost-effectively deliver power in Oman."
The project, owned by the Dhofar Generating Company, was developed by a consortium of Mitsui, Acwa Power and Dhofar International Development and Investment Holding Company.
Naef bin Mohammad Al Awaed, CEO of Dhofar Generating Company, said: "The Salalah 2 independent power plant contributes to the development of the local community and meets the steady increase in industrial, economic and social activity in the province and the sultanate as a whole."
The greenfield plant has been designed for a lifecycle of 30 years and adds to the capacity of the existing 273 MW plant in Raysut. n
More Stories