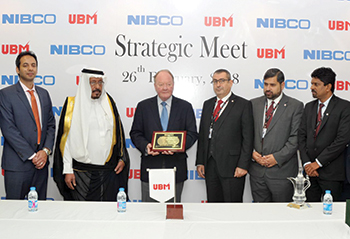 Nibco honours UBM for sales performance
April 2018
Universal Building Materials Merchants Company (UBM), Saudi Arabia's leading building materials company for the past 40 years, was recently honoured for its performance in the kingdom.
UBM received recognition for having achieved an outstanding sales performance and the top sales level in the Middle East region for 2017 from Nibco, a world-leading provider of valves and fittings and flow control specialist based in Elkhart, US.
Rex Martin, chairman of Nibco – who was on his first visit to Saudi Arabia – presented a momento to UBM during a strategic meet held in Riyadh on February 26 to further strengthen the relationship between the companies.
UBM was represented by its chairman Raghunath S and Adham Khalid, senior regional manager – Middle East, Africa and India – for Nibco, who spoke about their future strategies.
"Our 35 years of partnership has enriched the construction industry. UBM and Nibco is a powerful collaboration that has provided high-quality valves, fittings and flow control for specialised plumbing services, HVAC (heating, ventilation and air-conditioning), and the fire-fighting sectors in the kingdom and wider Gulf region," Raghunath said.
"The two companies have over the three decades shared knowledge and experience of the construction sector to provide quality and state-of-the-art products that are technology-driven and promote hygiene," he added.
Nibco has a manufacturing history that spans 110 years and serves the global marketplace. It operates 10 manufacturing plants throughout the US, Mexico and Poland.
Nibco products are manufactured under a quality management system conforming to the current revision of ISO9001 standards.
UBM delivers the best products from around the globe to the kingdom's construction market. Founded in 1979, the company has branches throughout Saudi Arabia with its head office in Riyadh, and regional offices in Al Khobar and Jubail, in the Eastern Province; and Jeddah in the Western Province.
The company has a countrywide sales network through which it distributes world-class products from well-known brands like Zurn, Wilkins, Assa Abloy, Nibco, Hunter Douglas, Wilson Taylor, Bailey, SHW, Mandelli, Rocky Mountain, Baldwin, Raven, and Spark.
More Stories