Saudi Focus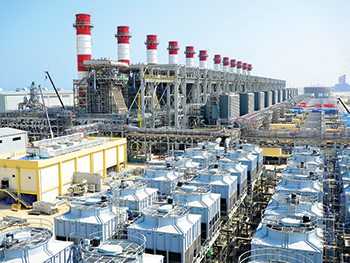 Developers invited for Jubail Phase Three IWPP
April 2018
Saudi Arabia's Water & Electricity Company (WEC) has invited expressions of interest (EOIs) for the development of an independent water and power project (IWPP) to be located at Jubail Industrial City on the Arabian Gulf coast.
Jubail Phase Three will be located adjacent to the existing units of the plant's first two phases and Jubail reverse osmosis (RO) plants in the Eastern Province of the kingdom.
WEC will conduct a competitive process to select a developer or developer consortium for the development, financing, engineering, procurement, construction, implementation, operation and maintenance of the plant which will have a capacity of 1.17 million cu m per day of potable water consisting of 60 per cent reverse osmosis and 40 per cent thermal desalination technology, WEC said.
The project will also include a 3,000 MW power plant, together with associated infrastructure and facilities.
The project company to be incorporated to develop the project will sell its entire power and desalinated water capacity and output to WEC under a power and water purchase agreement (PWPA). It will have the concession for 25 years.
WEC's obligations under the PWPA will be supported by a credit support agreement from the Government of Saudi Arabia, the company said.
The deadline for submitting EOIs is May 1, 2018.
More Stories