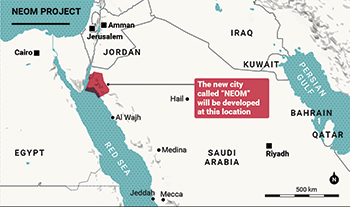 $10bn fund set up for mega city
April 2018
Saudi Arabia and Egypt have jointly set up a $10-billion fund to develop a planned $500-billion mega-city and a business zone, with the latter committing over 1,000 sq km of land in the south Sinai region, said a report.
The announcement came during Saudi Crown Prince Mohammed bin Salman's first public overseas visit to Egypt, after becoming heir apparent last year, reported Reuters citing a senior Saudi official.
Prince Mohammed had previously announced plans for the 26,500-sq-km zone, known as Neom, at an international investment conference in Riyadh. Set to be the world's first independent special zone stretching over three countries – extending across the Egyptian and Jordanian borders – Neom will become a new vibrant destination located in the northwestern region of Saudi Arabia, said the report.
Riyadh's part of the new joint investment fund will be cash to help develop the Egyptian side of the Neom.
The project is part of bold moves by Prince Mohammed to wean the world's top crude exporter off oil revenues that include plans to float a portion of state oil giant Saudi Aramco.
Saudi Arabia plans to build seven cities and tourism projects, while Egypt will focus on developing the existing resort cities of Sharm El Sheikh and Hurghada, said the report citing the official.
It will also set up 50 resorts and four small cities as part of a separate tourism initiative announced last August and backed by the country's Public Investment Fund (PIF), he added.
Work is set to start in 2019 on the kingdom's ambitious project and its first phase is likely to completed by late 2022.
More Stories