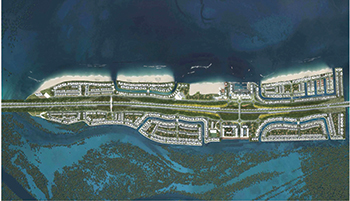 Green light for Al Fahid Island construction
April 2018
Bright Accord General Contracting has been awarded the first construction package on the Al Fahid Island Development, a high-end mixed-use waterfront development in Abu Dhabi.
The local contractor has been awarded the nine-month reclamation package and construction work has now begun on site.
The contract was announced by Faithful+Gould, which last year was engaged by the developer Al Fahid Property Development to provide cost management services at the design, tender and construction stages on the high-end mixed-use waterfront development.
Faithful+Gould is a member of the SNC-Lavalin Group and an integrated project and programme management consultancy. Its cost management services cover the reclamation, marine works, site-wide infrastructure and landscaping, residential and leisure components.
Steven Batchelor, regional director for commercial services in Faithful+Gould business, said: "We played a key role awarding the first construction contract for this breathtaking development and are excited to see the development start to take its formative shape. The client has masterplanned a truly exceptional luxury development that will transform the landscape over the coming years and be unrivalled in terms of both the community's quality of design and lifestyle offered."
Located between Abu Dhabi's Saadiyat and Yas islands, Al Fahid Island will host a variety of residential offerings including beachfront villas, luxury townhouses and medium-rise apartment blocks situated around a spectacular marina, a beach club, retail and food and beverage (F&B) outlets, schools, community facilities and landscaped community parks.
The masterplan will be delivered in five phases, with Phase One having a plot area of about 21 million sq m. The family-friendly community will consist of 301 luxury four- to seven-bedroom villas, 652 one- to four-bedroom apartments with breathtaking views across the marina extending into the Arabian Gulf, 15 exclusive three-bedroom townhouses in waterfront and park settings.
More Stories