Contractors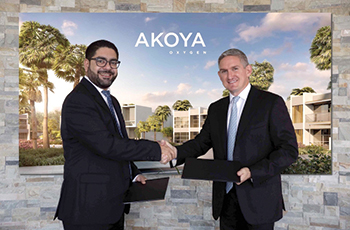 Arabtec to build 916 Akoya Oxygen villas
April 2018
Arabtec Holding, a leading contractor for social and economic infrastructure, says that its wholly owned subsidiary Arabtec Construction has been awarded a Dh424 -million ($115.4 million) contract from Damac Properties for the construction of 916 villas in the Akoya Oxygen master development.
Efeco (Emirates Falcon Electromechanical Company), another wholly owned subsidiary of Arabtec Holdings, will be carrying out the mechanical, electrical and plumbing (MEP) works for the project.
The project entails 329 units in Mimosa, 419 units in Basswood and 168 units in Amazonia extension located in Phase Six of the Akoya Oxygen master development. The three phases comprise a built-up area of approximately 148,000 sq m and will take 22 months to complete, commencing from last month.
Group chief executive officer Hamish Tyrwhitt says: "We are delighted to have been awarded another project from Damac Properties. The onboarding of repeat business from our clients is testament to our strengthened relationships across our core geographies and in our core competencies."
Akoya Oxygen is a 55-million-sq-ft master development that will showcase the greenest living spaces in Dubai and is home to an 18-hole championship golf course. The community will also comprise shopping, retail, entertainment and hospitality components, amongst others to complement its residential offering of villas, apartments and serviced units.
More Stories