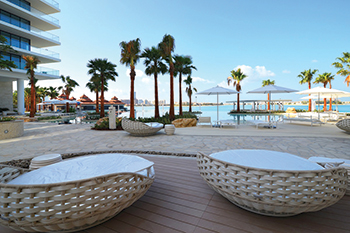 Serenia Residences complete
April 2018
Palma Holding has handed over its flagship Dh1.5-billion ($408 million) Serenia Residences project on schedule.
Seventy per cent of the units have been sold and the luxury community is now welcoming its first residents, says Kareem Derbas, CEO and founder of Palma Holding.
"In line with our meticulous approach to timely project delivery, we are delighted to be handing over Serenia Residences on schedule and to the highest quality standards," he adds.
"The development has generated an exceptional response on the leasing market, with many people already living on The Palm now gravitating toward Serenia Residences, as well as among investors seeking an ideal home away from home for weekend getaway and holidays in Dubai. We are proud to be offering them a beautifully finished haven of tranquil and calm in one of Dubai's most iconic locations."
"We are very pleased to announce the timely completion of Serenia Residences, and are thankful to all our business partners who have helped us turn our dream to reality. I'm proud to have delivered on our promise to create Dubai's most exclusive beachfront residences," said Hassan H Nia, CEO of Banian.
Designed by Hazel Wong, the famous architect behind the landmark Emirates Towers, Serenia Residences is described as being the only exclusively residential community on The Palm Jumeirah's Crescent. The 850,000-sq-ft development includes 250 units comprising one- to three-bedroom apartments and penthouse suites, with around 70 per cent of the project dedicated to landscaping and amenities.
Featuring contemporary architecture and layouts unique to The Palm Jumeirah, Serenia Residences' central theme is one of tranquil living, premium amenities and bespoke concierge services. The up-scale community project features the largest private outdoor infinity pool on The Palm, a lap pool, a children's pool, a play area, a state-of-the-art gymnasium and tennis courts.
Barbecue areas complete Serenia Residences' beachfront living experience. Palma has also devised personalised premium services for the comfort of its clients, from interior design packages to everyday home management and handover services.
Since its inception, Palma Holding has completed over 4 million sq ft of premium properties in Dubai worth over Dh3.6 billion. The group's main area of focus is Dubai Marina, where it has constructed iconic buildings such as Silverene Towers and the 'twisting' Infinity Cayan Tower. n
More Stories