Real Estate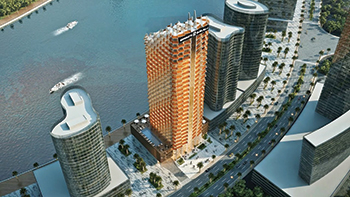 Binghatti Business Bay tower in demand
April 2018
UAE-based Binghatti Developers says there has been an overwhelming investor response for its Dh400-million ($109 million) Millennium Binghatti Residences project coming up directly on Dubai's Water Canal waterfront, offering spectacular views of the Dubai skyline and Burj Khalifa.
The 29-storey tower in Business Bay seamlessly blends together high-rise residential, commercial, retail, and entertainment space.
The tower is expected to be completed by the end of next year.
Binghatti Developers says that the project, which is inspired by the luxurious Millennium Hotels and Resorts, witnessed remarkable success during the sales launch of Phase One held recently, where an overwhelming number of buyers and investors snapped up around 60 per cent of the units.
Consisting of 230 units including studio, one- and two-bedroom apartments, the building offers several hotel-inspired facilities which ensure an enjoyable and prestigious lifestyle for its residents.
CEO Muhammad BinGhatti, says: "We are very pleased with the response we have received for Millennium Binghatti Residences, which is Binghatti's first hotel-inspired project in Business Bay."
More Stories