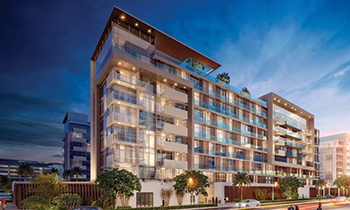 Azizi on a roll
April 2018
Leading real estate developer Azizi Developments made a flurry of announcements last month setting the tone for its activities over the next two years.
Among such announcements, the UAE-based firm indicated that it intends to start accepting prequalification applications for tenders worth as much as Dh20 billion ($5.44 billion) in 2018. This is in addition to its existing pipeline of 100 projects that are in various stages of development across the city.
This is the largest tender announcement from Azizi Developments till date and will contribute to its real estate portfolio over the next few years. Construction on these projects is set to commence within two months and will be delivered by 2020.
Commenting on this announcement, Mirwais Azizi, chairman of Azizi Group, says: "This will be a tremendous year of growth and expansion for Azizi Developments. The new tenders are our largest number released so far and will contribute to our already packed portfolio of projects which we aim to deliver on schedule by 2020."
He adds that since last year, the company has been working closely with its contractors and sub-contractors to push forward with development to deliver projects ahead of schedule.
Azizi Developments is currently working on developing more than 200 projects in 2018. Among the biggest projects are the estimated Dh12-billion ($3.36 billion) Azizi Riviera, the developer's flagship development in Meydan One, and Azizi Victoria, a mega-community project in Mohammed Bin Rashid Al Maktoum City – District 7.
Azizi Riviera
Azizi Riviera is one of the group's most ambitious projects to date and draws inspiration from the French Riviera waterfront lifestyle. It includes 69 mid-rise buildings, comprising 16,000 units of studio, one-bedroom, and two-bedroom apartments, and two hotels.
The architecture will also contain versatile, contemporary elements. Outdoor recreation and proximity to the business hub of Dubai and other leading attractions, including the Meydan One Mall and the Meydan Racecourse (home of the Dubai World Cup, the world's richest horse race) further contribute to Azizi Riviera's appeal.
A key feature of the Azizi Riviera development is a mega integrated retail district which will consist of high street bridge brands, leisure and entertainment options. The overall development will also offer access to long paved pedestrian paths and water transport, yachting facilities and a proposed marina, among other attractions.
Work is currently under way on the basement levels of the first two phases of the development, which is set to be completed in the first quarter of 2019. The developer says the foundations are 85 per cent complete.
According to Azizi, the development will soon be above ground level. "The project is developing rapidly, as we had planned, and we are aiming to deliver Azizi Riviera ahead of schedule," he says.
While the first two phases will be completed in early Q1 2019, phases Three and Four will be completed in Q3 2019. Once completed, the four phases will comprise a total of 16,000 apartments.
Azizi Victoria
Even larger in scale are the developer's plans for Azizi Victoria in Mohammed Bin Rashid Al Maktoum City – District 7. The project is twice the size of the Azizi Riviera and is influenced by contemporary British culture and way of living.
Spread over a construction area of 33 million sq ft, Azizi Victoria will comprise 105 mid and high-rise residential buildings of 30,000 units of studio, one-, two-, three- and four-bedroom apartments, a retail district and two hotels.
Azizi Victoria's architectural style is contemporary freestyle, with occasional PostModern influences. However, the design has inherited stylistic influences from the Southern European clustered-town configuration and a number of certain high-street features, specific to British Georgian downtowns.
Azizi Developments last month awarded two contracts worth Dh1.5 billion ($408.38 million) for the construction of Phase One of the project comprising 32 buildings with 4,000 units. Work is expected to commence immediately for completion in the third quarter of 2019.
Green Modelling Contracting has been appointed to construct 16 buildings and Modern Civil International Contracting Company will build the remainder.
Other projects
Among Azizi Developments' ambitious projects is a yet-to-be-named commercial and residential tower. Once complete, the 122-storey building will stand at approximately 570-m tall on Sheikh Zayed Road and will be among the tallest skyscrapers in Dubai.
Estimated to cost Dh3 billion, the tower will house residential apartments on the first 100 floors and a luxury hotel on the remaining 22 floors.
Azizi Developments is consulting with Atkins, a leading engineering, design and project management company, to finalise the design of the iconic building. Atkins has refined and updated the original design based on recommendations by Azizi Developments – and construction is expected to commence in the next few months with the mega project scheduled for completion between 2021 and 2022, the company says.
Last month, Azizi Developments also unveiled plans for Azizi Grand, a new residential project in Dubai Sports City as well as three new premium residential and commercial projects in Meydan Avenue, worth a combined value of Dh750 million ($204.1 million).
The developer's first project in Dubai Sports City, Azizi Grand will consist of 431 apartments with balconies, including 238 studio, 140 one-bedroom, and 53 two-bedroom units. Spread across 47,100 sq m, the building includes a dramatic architectural feature that resembles four towers merging into one. It also features two swimming pools, six panoramic view elevators, and two staircases. The project is located along the bourgeoning Sheikh Mohammed bin Zayed Road corridor, and minutes away from the expanding Al Maktoum International Airport and the site of Expo 2020.
Meanwhile, the new projects at Meydan Avenue will consist of three low-rise buildings located along the Meydan Road leading to the Meydan Hotel and Meydan Racecourse and Grandstand. The three individual complexes – Azizi Gardens, Azizi Park Avenue, and Azizi Greenfield – will comprise a total of 242 one- and two-bedroom apartments incorporating elements of open green spaces, including landscaped areas, parks, gardens and an aesthetic waterfront feature.
Azizi Gardens, Azizi Greenfield and Azizi Park Avenue are the firm's third development in the Meydan master development, following the Azizi Riviera and Azizi Victoria projects in Meydan One and MBR City – District 7, respectively.
Other projects in the pipeline include Royal Bay by Azizi and Mina by Azizi on Palm Jumeirah, Azizi Aliyah Residences and Farhad Azizi in Dubai Healthcare City, and Azizi Farishta, Azizi Plaza, among others in Al Furjan.
Azizi Developments last year completed seven projects, worth a combined Dh1.8 billion ($489 million), at its Al Furjan community. Among the various projects under way in this community, Azizi Farishta and Azizi Plaza serviced apartments are scheduled for delivery ahead of schedule in Q2 of 2018, the company says.
Established in 2007, Azizi Developments is the real estate investment arm of Azizi Group. It was awarded 'Developer of the Year' at the Construction Innovation Awards for two consecutive years in 2016 and 2017, and has been instrumental in developing some of the finest properties in The Palm Jumeirah, Meydan, Dubai Healthcare City, Al Furjan, Studio City, Sports City and Jebel Ali.
More Stories