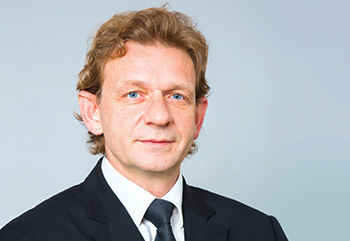 Dynapac to launch new models
April 2018
Dynapac, a world leader for mobile compactors for road surfaces from Sweden and now part of France-based Fayat Group, has chalked out an aggressive growth plan for the region which includes the launch a new range of models in the light compaction segment.
As part of this strategy, the company also intends to expand its distributor network and boost its after-sales service, especially in the Middle East.
Dynapac manufactures rollers for asphalt and soil applications, pavers and planers. This year, it plans to roll out tampers, forward and reversible plates, and walk-behind and articulated utility rollers.
The products will be introduced in the second quarter and customers can avail of its complete range by the year-end, according to Thierry Leder, regional general manager of Dynapac Middle East and Africa.
Leder pointed out that the company will maintain a greater focus on the region and ensure strong support to customers.
He added that in line with the global trend towards digitalisation, Dynapac will be increasingly focusing on the latest technologies available to enhance the efficiency of its products.
"Through digitalisation, we can guarantee the highest profitable productivity and we will ask our customers to take advantage of the new technologies," said Leder.
Previously part of Atlas Copco's road construction equipment division, Dynapac was acquired by Fayat Group in 2017. The acquisition means huge opportunities for both companies: Fayat can not only boost its offering with a well-recognised brand in road construction but also gain the know-how on world-class paving technology; for Dynapac, being part of the Fayat umbrella means it can take advantage of Fayat's construction industry expertise and enhance its customer focus by reinforcing its distributor network.
Under Fayat, Dynapac will continue to operate as an autonomous manufacturer and retain its brand name.
More Stories