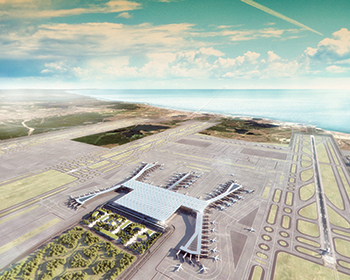 Istanbul's $12bn airport set for October launch
May 2018
Istanbul New Airport (INA), a giant aviation complex being built by Turkey on the outskirts of the capital city at a cost of nearly €10 billion ($12.3 billion), is now 80 per cent complete and on target to open on October 29 this year.
The airport project recently achieved a major milestone by turning on the lights of the first of its three runways.
On completion, Istanbul New Airport will become the world's new aviation hub with 350 destinations in passenger and cargo transportation and serving approximately 100 airlines.
The initial phase with a passenger capacity of 90 million will be commissioned with three independent parallel runways, taxiways, a terminal building, an air traffic control tower, communication and weather systems as well as other utility buildings, said a top official.
"The first runway at INA is now ready for take-off and landing. For the first time, runway number one, which is 3,750-m long and 60-m wide, has been lit up," remarked Yusuf Akçayoglu, CEO of IGA Airports Construction, which is the engineering, procurement and construction contractor for the project and also its operator.
INA has installed the world's biggest and most sophisticated airfield ground lighting at its first runway, featuring 34,183 LED lights. Intelligent lighting makes the visual guiding process easier and improves situational surveillance and aircraft tracking systems, he explained.
This allows for optimised aircraft routing to and from the gates, a more efficient traffic flow and an increase in safety, he added.
"We have recently finished the baggage system which constitutes our airport's core. And now we have made the runway number one ready for landing with all the required equipment and in compliance with the relevant global standards. We are looking forward to delivering Istanbul New Airport in its entirety in October," Akçayoglu added.
More Stories