Regional News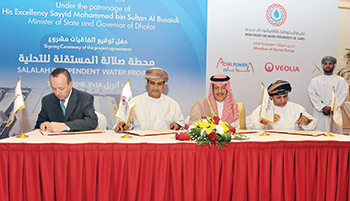 Acwa consortium secures Salalah IWP deal
May 2018
Oman Power and Water Procurement Company (OPWP) has awarded a RO60-million ($155 million) contract to a consortium led by Saudi-based Acwa Power for developing the sultanate's first independent water desalination (IWP) procurement in the governorate of Dhofar.
The consortium, Dhofar Desalination Company, includes French water and energy management company Veolia and Dhofar International Development & Investment Holding Company (Didic) as partners.
The Salalah IWP project will be vital in meeting Dhofar's increasing demand for water, which is expected to rise at an average rate of six per cent per annum over the next seven years, said the OPWP, the sole procurer of all electricity and water capacity in the sultanate.
The plant, which will have a capacity to generate 25 million gallons per day of desalinated water using reverse osmosis technology, is procured by OPWP under a build-own-operate framework on the back of a 20-year water purchase agreement.
More Stories