Regional News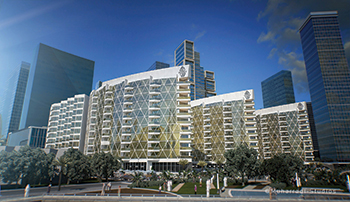 Hollywood-concept homes to open
May 2018
Work is under way on Hollywood-concept residences at Bahrain's Waterbay West, a development initiated by Bin Faqeeh in cooperation with Paramount Residences.
Designed to mirror trademark Hollywood glamour, the California-inspired hotel apartments are situated in Bahrain Bay and consist of three 10-storey towers, which are expected to open in the second quarter of 2019.
"Paramount is a Hollywood concept so the whole design for the building will be totally different from other buildings," said Bin Faqeeh chairman Faisal bin Faqeeh. "Hopefully, this particular idea will change the look of buildings being built.
"We're trying to open as soon as possible because Dubai still hasn't opened any Paramount projects but they're about ready. We're taking it as a challenge to get the work done as soon as possible; there is another Paramount project in Riyadh as well that still is not open," he added.
The towers will host hundreds of apartments, featuring 180, 200 and 189 units respectively.
Bin Faqeeh added that ties with international brand Paramount Residences will help enhance Bahrain's position in both the tourism and the real estate sectors.
More Stories