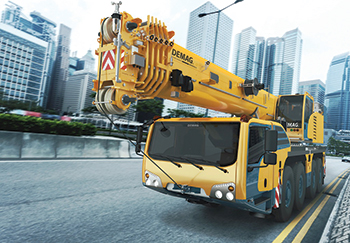 JTC orders six new Terex cranes
May 2018
Kuwait-based Jassim Transport & Stevedoring Company (JTC) has placed an order for six new Demag all-terrain cranes from Terex, a global manufacturer of lifting and material processing products.
The list includes one AC 100-4 model, three AC 130-5 units and two AC 160-5 models. These new units, along with the six other Demag all-terrain cranes that JTC purchased over the last two years, expand the company's Terex and Demag crane fleet to more than 50 units.
"Our business continues to expand across Kuwait and Qatar," stated Adel Kohari, JTC's chief executive. "And, given the success we have experienced with the Demag cranes we recently purchased, we decided to add several more mobile cranes. We believe this strategy will make our crews more productive because all of the various models share common features and operate in similar ways. The whole Demag all-terrain crane line is well designed and built, from small to large."
Known for their manoeuvrability and compact chassis design, Demag all-terrain cranes feature a single engine concept with an intelligent motor management system that disburses the horsepower needed for lifting and travel functions, as well as all-axle steering with an independent rear axle steering and dynamic launch controls.
JTC's new Demag AC 100-4 model has a 100-tonne capacity classification, main boom length of 50 m and maximum system length of 77 m. The five-axle, 130-tonne AC-130-5 model's main boom can extend up to 60 m and includes a maximum system length of 86.5 m. The larger AC 160-5 mobile crane has a 160-tonne capacity classification, main boom length of 68 m and a maximum system length of 95 m.
Scheduled for delivery later this year, Kohari stated his crews were looking forward to putting these new Demag all-terrain cranes to work.
JTC is a significant player in the equipment rental, transportation and logistics industry in Kuwait, Qatar and Saudi Arabia, providing professional, quality and cost-effective equipment rental and logistics services for both the public and private sectors.
More Stories