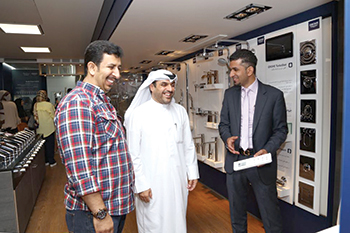 Grohe Innovation trucks tour region
May 2018
Grohe, a leading provider of sanitary fittings, recently toured Bahrain, giving tradesmen and installers insights on the latest technologies, trends, and its product innovations.
Bahrain was on the second leg of Grohe's Middle Eastern Truck tour which showcased select products highlighted at ISH 2017, the world's leading trade fair for the sanitary industry, as well as fully functioning models live in the trucks, said the German sanitary giant.
Antoine Khalife, vice-president, Grohe (Levant and Gulf Coast), stressed that this Innovation tour enables the visitors to have a real product experience, complemented by additional information and material to support their businesses.
During the road show, the trucks will make a stop at over 800 locations in the 30 host countries, which are being communicated on-site as well as online, she added.
The Grohe Innovation tour, held annually, is dedicated to professionals and the mobile showrooms have been exclusively constructed for Grohe to bring the product experience to customers across international borders.
The four trucks toured various locations in the kingdom, in addition to hosting training sessions with Grohe experts to give clients an insight on different product features and benefits and practical installation tips.
Grohe has enjoyed an extensive presence in Bahrain for many years, serving the kingdom's sanitary ware market with its wide range of products and technology solutions.
More Stories