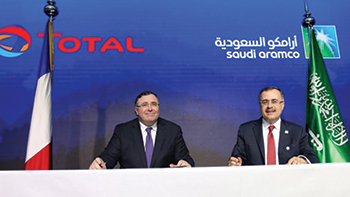 Aramco, Total to build $9bn petchem complex
May 2018
Saudi Aramco said it has signed an agreement with French energy major Total to build a giant petrochemical complex at Jubail, Saudi Arabia, at a total investment of $9 billion.
The Saudi oil conglomerate has also inked an accord with Ratnagiri Refinery and Petrochemicals Limited (RRPCL), a consortium of Indian oil companies, to jointly develop and build a mega refinery and petrochemicals complex in the Indian city of Ratnagiri. A pre-feasibility study for the refinery has been completed and the parties are now finalising the project's overall configuration.
The Jubail complex will be integrated downstream of the Satorp refinery, a joint venture between Saudi Aramco (62.5 per cent) and Total (37.5 per cent) in Jubail, in a move designed to fully exploit operational synergies.
This world-class refinery, whose capacity increased from 400,000-barrel-per-day at its start-up in 2014 to 440,000-barrel-per-day today, is recognised as being one of the most efficient in the world, said the Saudi oil giant Aramco.
Located next to the Satorp refinery in the same industrial area, the complex will comprise a world-size mixed-feed steam cracker (50 per cent ethane and refinery off-gas) with a capacity of 1.5 million tonnes per year of ethylene and related high-added-value petrochemical units.
Aramco said the duo is planning to start the front-end engineering and design (Feed) in the third quarter of 2018.
The Saudi company said the project will represent an investment of around $5 billion. The cracker will feed other petrochemical and specialty chemical plants representing an overall amount of $4 billion investment by third-party investors. The project will produce more than 2.7 million tonnes of high value chemicals.
More Stories