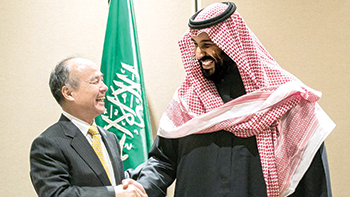 $200bn SoftBank solar project on way
May 2018
Saudi Arabia and SoftBank Group have signed a memorandum of understanding to build the world's largest solar project in the kingdom at an investment of $200 billion, said a report.
SoftBank founder Masayoshi Son unveiled the project last month in New York at a ceremony with Saudi Crown Prince Mohammed bin Salman, reported Bloomberg.
The deal is the latest in a number of eye-popping announcements from Saudi Arabia promising to scale up its access to renewables, it said.
While the kingdom has for years sought to get a foothold in clean energy, it was only in 2017 that ministers moved forward with the first projects, collecting bids for a 300-MW plant in October, it stated.
At 200 GW, the SoftBank project planned for the Saudi desert would be about 100 times larger than the next biggest proposed development and a third more than what the global photovoltaic industry supplied worldwide last year, according to data compiled by Bloomberg New Energy Finance (BNEF).
"It's a huge step in human history," Prince Mohammed was quoted as saying in the report. "It's bold, risky and we hope we succeed doing that," he added.
If built, the development would almost triple Saudi Arabia's electricity generation capacity, which stood at 77 GW in 2016, according to BNEF data. About two-thirds of that is generated by natural gas, with the rest coming from oil. Only small-scale solar projects working there now.
Son said he envisions the project – which runs the gamut from power generation to panel and equipment manufacturing – will and shave $40 billion off power costs.
The development will reach its maximum capacity by 2030 and may cost close to $1 billion a GW, he stated.
"The kingdom has great sunshine, great size of available land and great engineers, great labour, but most importantly, the best and greatest vision," Son told reporters at a briefing.
SoftBank was said to be planning to invest as much as $25 billion in Saudi Arabia over the next three to four years. SoftBank is said to have aimed to deploy about $15 billion in a new city called Neom, which the crown prince plans to build on the Red Sea coast.
The Japanese company's Vision Fund is also said to plan investments of around $10 billion in state-controlled Saudi Electricity Company as part of efforts to diversify the utility into renewables and solar energy.
More Stories