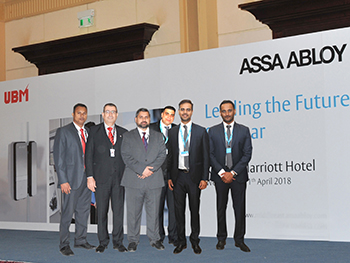 Assa Abloy solutions in limelight at seminar
May 2018
Assa Abloy conducted a seminar in Saudi Arabia with Universal Building Materials Merchants (UBM), its strategic partner in the kingdom, to promote its door opening solutions, increase awareness of the brand and launch new products.
The seminar, held at Marriott Hotel Riyadh last month, highlighted the latest trends and innovations in the areas of door opening and access control, and was attended by more than 200 industry professionals.
Considering that Saudi Arabia is a big player in the region's construction market and has embarked on an ambitious Vision 2030 plan, the security sector is anticipated to grow immensely, according to a top company official.
"The commercial security market in the GCC is expected to grow to $5.6 billion in 2022 with heavy investment in infrastructure and greater focus on possible security threats. Access control will, therefore, be one of the biggest growth sectors in the region," said Nassim Abu Yousef, vice-president of Assa Abloy Security Solutions Middle East.
Assa Abloy is a global leader in door opening solutions that offer security, safety and convenience in areas such as access control, identification technology, door automation and hotel security.
UBM is a Saudi-based building materials specialist and one of the largest door and hardware distributors in the kingdom.
Organisers of the event presented innovative and futuristic products and solutions for the Saudi market. The programme included presentations on specifications, doors, hardware, access control and glass solutions.
A workshop session was also held where participants learned about the complete range of Assa Abloy Security Solutions, including high security steel doors, customised wooden doors, Shine remote access control for glass doors, and the smart Code Handle Door with a built-in code lock.
A video presentation showcased an innovative BIM (building information modelling)-enabled product specification tool called Assa Abloy Openings Studio.
Mahmoud Al Khayyat, the CEO of UBM, said the seminar was a perfect opportunity to mark UBM and Assa Abloy's alliance, and to demonstrate the latest product developments in the areas of security and access control.
"It's also important to stay ahead of the trends and keep our customers updated with the latest product range, in order to serve them in the best possible way," he said.
During the event, Assa Abloy launched three new products for the Saudi market, namely Aperio H100, an easy-to–integrate wireless access control inside a stylish door handle; CY110 patented master-key cylinder; and a new design of a door closer.
More Stories