Saudi Focus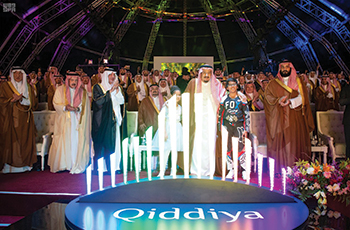 Stone laid for mega entertainment hub
May 2018
Saudi Arabia's King Salman bin Abdulaziz Al Saud laid the foundation stone last month for the kingdom's new recreational, sports and cultural hub, the Saudi Press Agency reported.
The project, expected to be the largest tourist destination in the region, will be built in Qiddiya area, some 40 km west of Riyadh.
The 334-sq-km Qiddiya project will include recreational and sports facilities capable of hosting world-class competitions, training academies, desert and asphalt tracks for motorsports enthusiasts, water and snow recreation activities, outdoor adventure activities, safari and nature experiences as well as historical, cultural and scientific activities.
The project will also include shopping centres, food and beverage outlets, hotels, real estate projects, and services. It will be more than 2.5 times the size of Disney World, or 100 times the size of Central Park in New York.
More Stories