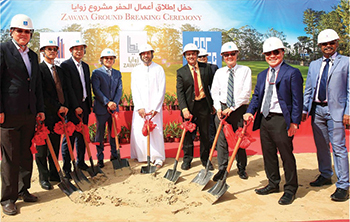 Work begins on new project at $2.2bn Motor City
May 2018
Excavation work has commenced on the newly-launched Zawaya, a new mixed-use development in Motor City, Dubai, being developed by Union Properties, one of the largest real estate developers in the UAE.
China State Construction Engineering Corporation (CSCEC) has been signed up for the excavation work.
With the launch of Zawaya, Union Properties will be initiating the first phase of its new masterplan for Motor City, which is currently estimated to have a completion cost of over Dh8 billion ($2.17 billion).
Inspired by traditional community-focused neighbourhoods, the project boasts a unique architectural design that meets the needs of modern life and aims to create a vibrant, integrated, and sustainable community within the larger Motor City area.
Properties in Zawaya will be built around a main town square, which will serve as the heart of the community, where residents can host pop-up markets, celebrate festive occasions and gather for recreational activities.
With a total floor area of nearly 400,000 sq ft, and a retail space of 55,000 sq ft, Zawaya will consist of 400 residences including studios, deluxe studios as well as one- and two-bedroom apartments.
The 148,000-sq-ft development will also include retail and leisure facilities, a wide range of restaurants and cafés, open green spaces, swimming pools, a fitness centre, and courts for squash and basketball.
Commenting on the project, Group CEO Ahmed Yousef Khoury said: "Union Properties is one the first real estate developers to design and create integrated residential communities in Dubai like Motor City. We are proud to officially announce the launch of 'Zawaya' that will redefine the concept of modern and integrated residential community with its iconic design. Residents will be able to enjoy a close-knit community experience, as we provide them with a suitable and harmonious space for communication and co-existence."
More Stories