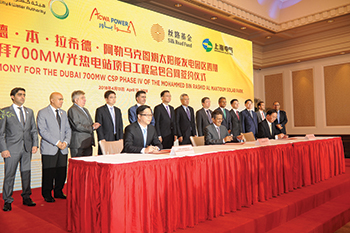 EPC deal signed for MBR solar park
May 2018
Saudi Arabia's Acwa Power and China's Shanghai Electric have signed an engineering, procurement, and construction (EPC) contract for the 700-MW fourth phase of the Mohammed bin Rashid Al Maktoum Solar Park, the largest concentrated solar power (CSP) investment project in the world based on the independent power producer (IPP) model.
The deal was signed in Shanghai by Mohammad Abdullah Abunayyan, the chairman of Acwa Power, and Cao Min, the president of Shanghai Electric in the presence of Saeed Mohammed Al Tayer, the managing director and CEO of Dubai Electricity and Water Authority (Dewa), Ali Obaid Ali Al Dhaheri, UAE ambassador to China, Turki Al Madi, Saudi ambassador to China, Zhou Bo, the executive vice mayor of Shanghai Municipality, Zheng Jianhua, the chairman of Shanghai Electric Group, in addition to other senior officials.
The top Dewa official said Mohammed bin Rashid Al Maktoum Solar Park has a planned capacity of 5,000 MW by 2030, with a total of $13.6 billion in investments to accelerate diversification to clean energy. "It is a key pillar in our strategy, considering that our ambitious targets require at least 42,000 MW of renewable energy by 2050," he said.
According to Al Tayer, the project will feature the world's tallest solar tower, measuring 260 m, with the largest thermal energy storage capacity. It will allso provide clean energy to over 270,000 residences in Dubai, reducing 1.4 million tonnes of carbon emissions a year.
The CSP project will use two technologies to generate clean energy – the 600-MW parabolic basin complex and the 100-MW solar tower, and they will cover 43 sq km. It involves an investment of $3.9 billion and has achieved the world's lowest levelised cost of electricity of 7.3 cents per kilowatt hour for CSP.
More Stories