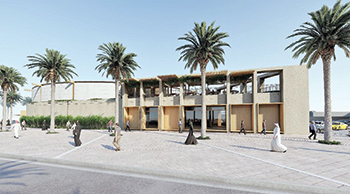 Plan unveiled for $2.7bn Alghadeer
May 2018
Aldar last month launched a Dh10-billion ($2.72 billion) masterplan that will incorporate and greatly enhance Alghadeer, one of its already established destinations located near the border of Abu Dhabi and Dubai within its Seih Al Sdeirah landbank.
The new Alghadeer masterplan incorporates Aldar's existing community of the same name which boasts over 2,000 homes and is a thriving destination for many families.
Alghadeer Phase Two will feature 14,408 residential units, including villas, townhouses, and maisonettes, which will be delivered over the next 15 years, said the Abu Dhabi developer.
Offering a residential GFA (gross floor area) of 1.3 million sq m, the project will be complemented by office space, retail space, hospitality, education and community amenities and is strategically located in Abu Dhabi close to the Dubai Expo 2020 site.
Demonstrating momentum in its newly-launched masterplanned development, Aldar Properties last month also announced that it has sold two plots of land in Alghadeer for community services. The contracts will see British curriculum Alghadeer International School and retail outlets including LuLu supermarket and a community clinic open in Alghadeer in 2021 in line with handover of the first units at the new community to customers.
The retail amenities will have a GFA (gross floor aea) of more than 30,000 sq m and will include a range of outlets as well as a community clinic, it stated.
Unveiling the masterplan, CEO Talal Al Dhiyebi said: "The launch of Alghadeer is a clear statement of Aldar's ambition. From its strategic location to its sustainable living initiatives, Alghadeer signals the creation of a new way of living for UAE residents, now and in the future."
This area of the UAE includes major job-creating projects such as Dubai Expo 2020, Kizad and Dubai World Central.
At the heart of Alghadeer is Harvest, a multi-use agricultural-led space featuring allotments, as well as The Hub – a F&B (food and beveraage) outlet; The Studio – an educational area for training and workshops; The Shed – a dedicated area for purchasing farming tools and supplies; and The Market – a retail area for freshly grown produce; and The Field – where people can rent plots and grow their own produce.
Appealing to those who prefer wide-open spaces and unique recreational amenities, the destination will also feature lakes, running and cycle tracks, gym, camping and barbecue sites and a network of walkable gardens and parks lit entirely by solar powered lights, said the Abu Dhabi developer.
The Alghadeer masterplan also includes schools, a hotel, public garden areas, community swimming pools, multi-use sports areas, and community centres, it added.
More Stories