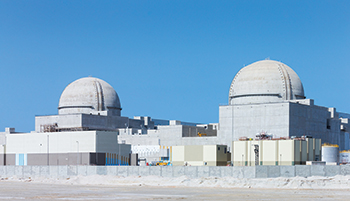 Final dome ready at UAE nuclear plant
May 2018
The Emirates Nuclear Energy Corporation (Enec) has achieved a major construction milestone with the successful completion of the reactor containment building (RCB) dome for Unit 4, the final unit of its Barakah Nuclear Energy Plant located in the Al Dhafrah region of Abu Dhabi.
The Unit 4's reactor coolant loop (RCL) pipe welding, and the setting of key equipment have also been completed, said Enec.
The completion of Unit 4's dome structure signifies the completion of most of the main construction activities at the Barakah Plant. This is a key milestone in the overall development of the UAE Peaceful Nuclear Energy Program and the delivery of safe, clean and reliable electricity to the UAE grid.
The dome is the final structural component of the RCB, which now measures around 70 m in height. The RCB houses the nuclear reactor vessel (RV), steam generators and other major components. Built out of concrete and heavily reinforced steel, RCBs are ranked among the strongest structures in the world.
The successful and efficient completion of welding of the RCL, which plays a key role in transferring heat from the RV to the steam generators, is another key step towards the start of major testing for the systems of Unit 4.
CEO Mohamed Al Hammadi said: "With construction completion for Unit 4 currently standing at 67 per cent, the next phase for the unit will be to start the transition from construction to testing and commissioning,"
Unit 4 alone is more than 67 per cent complete, while Units 3 and 2 are 81 per cent and 92 per cent respectively.
More Stories