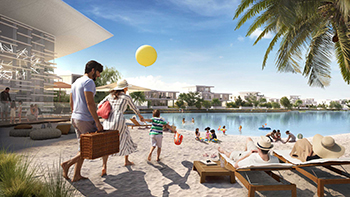 Majid Al Futtaim unveils $3.8bn Tilal Al Ghaf
May 2018
Majid Al Futtaim has launched Tilal Al Ghaf, its flagship community in Dubai, which is designed to be mixed-use destination representing about Dh14-billion ($3.81 billion) worth of investment over the next 10 years.
Spanning three million sq m at the intersection of Hessa Street and Sheikh Zayed Bin Hamdan Al Nahyan Street, near Dubai Sports City, Tilal Al Ghaf is a phased project that will include more than 6,500 freehold homes when complete by 2027, ranging from apartments, townhouses and bungalows, through to substantial luxury villas.
In line with Majid Al Futtaim's approach to 'placemaking', Tilal Al Ghaf is being developed with the highest standards of urban design and planning principles in mind to offer community living crafted around people.
Authentic to the UAE culture, the community name – Tilal Al Ghaf – is inspired by the Ghaf tree which is a symbol of local heritage and sustainability. Extensive plantings of indigenous Ghaf trees will be provided across the community to encourage a sense of connection to the national natural landscape.
The homes in Tilal Al Ghaf will be set in a series of walkable neighbourhoods connected by pathways, natural open spaces, and neighbourhood parks. Around 355,000 sq m of landscaped open space will include green and play areas, 18 km of walkable trails and 11 km of cycling paths.
The centrepiece for the landscaping will be Lagoon Al Ghaf, a 70,000-sq-m swimmable lagoon, complete with 400 m of beachfront and 1.5 km of pedestrianised waterfront.
The community will feature four neighbourhoods, each having its own unique character, with Serenity and Harmony being the first two offered as part of the launch phase. Serenity is a collection of 40 five- and six-bedroom uber-luxury villas, offering unmatched waterfront views across Lagoon Al Ghaf as well as from the elevated ridge towards south-west Dubai. Harmony has a diversity of living options, from single storey bungalows to expansive three-storey family villas, all with the principle of connecting indoor and outdoor spaces and linked by parkways and trails.
More Stories