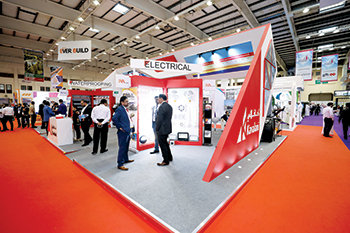 Trio of expos conclude on successful note
May 2018
The Gulf Construction Expo and its co-located events, Gulf Property Show and Interiors Expo, attracted a total of 160 local, regional and international participants – up from last year's tally of 140.
Organised by Hilal Conferences and Exhibitions (HCE) at the Bahrain International Exhibition and Convention Centre last month, the events provided regional manufacturers a platform to showcase world-class products over 5, 500 sq m of exhibition space while building on their success as the only integrated B2B and B2C shows for these sectors in the Northern Gulf.
The events were inaugurated by His Royal Highness Prime Minister of Bahrain Prince Khalifa bin Salman Al Khalifa.
The Gulf Construction Expo and the Interiors Expo saw new product launches and innovative products, while the Gulf Property Show created a record for being the largest property show in Bahrain.
The exhibitors were particularly pleased with the quality of the show and their ability to explore new clientele and markets.
"The expos beat last year's record of 8,500 visitors. This consistent performance to attract an increasing number of visitors over the last five years is a major achievement in itself. The exhibitions' ability to attract new audience each year gives added value for the participating exhibitors," said HCE managing director Jubran Abdulrahman.
Haji Hassan Group and Kavalani were Strategic Partners of the Gulf Construction Expo, while Al Nisr Aluminium and Metal Fabrication Company was Doors and Shutters Sector Sponsor, and Aamna was Green Technology Sector Sponsor.
Green technology and smart products took centrestage at the Gulf Construction Expo. Amna Insulations offered green technology solutions such as the Marmox Multiboard (the world's lightest construction and insulation board), Marmox External Thermal Insulation System, Politerm Light Concrete (the lightest thermal insulating concrete in the world) and Pleko Systems (an external insulation and finishing system).
Al Nisr, agent in Bahrain for international brands such as Flexidoor, R&D Doors, Kent, Sipar, Jewers, ISEA and OCM, showcased its comprehensive range of rolling shutters for windows and doors at the Gulf Construction Expo.
Meanwhile, Smart Wood, part of Taxiat Trading Company of Saudi Arabia, showcased its innovative wood plastic composites (WPC) products from Australia's Biowood.
Doka Middle East and Africa showcased OneGo, a high-performing formwork system for casting walls and floors quickly in just one operation.
Gulf Property Show
The Gulf Property Show 2018 hosted companies from the UK, Turkey and Pakistan, apart from those from the region.
There was much interest in the offerings on display, which cater to investors from various income brackets.
First Bahrain Real Estate Development Company sold off two villas at the show in its El Mercado project just two hours after its opening. Diyar Al Muharraq saw visitors inquiring about its Al Bareh and Al Naseem seafront developments.
The importance of the show was further emphasised with the attendance of the Land and Survey Bureau, the Real Estate Regulatory Authority (Rera) and the Urban Planning Authority.
Metropolitan Holding and Impact Estate exhibited a number of affordable investment opportunities in the UK. The UAE's Damac and Arada showcased their latest real estate developments at the show.
Other properties on display included Eagle Hills Diyar's iconic luxury waterfront development Marassi Al Bahrain; Metropolitan Holding's Sunset Village and Blue Water Villas; and Dilmunia by Ithmaar, among others.
Diyar Al Muharraq, Eagle Hills, GFH Properties, Manara Developments and Metropolitan Holding were all Strategic Sponsors of the show, while Al Ma'awdah Group was Diamond Sponsor and First Bahrain Real Estate Development was Gold Sponsor.
Interiors Expo
This year's Interiors Expo added two new features, the "On the Wall" art exposition in a bid to create a "festival for creativity" and the Interiors Shopper offering bargains on interiors furnishings.
"The positive response to the Interiors Expo's challenge to generate an atmosphere of creativity has raised the bar for next year's expo to maintain and enhance the innovative approach," said Abdulrahman.
Hussain Abdulaziz, marketing director of Hempel Paints, a Strategic Sponsor of the Interiors Expo, saw the event as major platform for companies to promote their products and services to the interior design and décor marketplace.
Italian company Bukokko Group, also a Strategic Sponsor, exhibited its exclusive, luxury furniture products.
More Stories