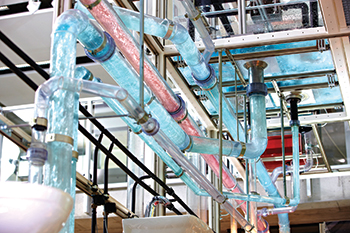 Geberit points way to sustainable sanitation
May 2018
With sustainability at the heart of its philosophy and operations, Switzerland-based sanitary products specialist Geberit is serving the growing green buildings market with innovative solutions.
Sustainable building, also known as green building, has long been more than just a passing trend, Gabriel Nassar, the company's managing director for the GCC, Pakistan, Sri Lanka and Iran, tells Gulf Construction.
"It is a global phenomenon, attracting a growing number of investors around the world – and for a good reason: While the impact on the environment is minimised, investors benefit from a long time horizon, low operating costs and the premium price these high-grade buildings achieve," he says.
Nassar adds that to obtain the green building certification, a property must undergo a comprehensive sustainability evaluation. High energy efficiency, resource-conserving materials, and use of the existing infrastructure, as well as durable and versatile products are just some of the factors that contribute to compliance with sustainable building standards and the award of the quality seal.
Geberit has long been playing a key role in this sector with appropriate products, for example, water-saving dual-flush and flush-stop technologies. "In 2011 alone, these technologies helped save around 1,700 million cu m of water, equivalent to more than half the annual water consumption of all German households," he points out.
For example, Geberit's Rimfree technology works with a patented flush guide that guarantees an optimal rinsing process and a perfect result even with a minimum amount of water, Nassar explains. The flush technology doesn't only begin directing the water once it reaches the WC pan, but rather before.
"The key to Geberit's Rimfree technology is a patented flush distributor. It is designed in such a way that the water is precisely directed where it is needed for a clean and thorough flush – and only there. It thoroughly rinses out the WC pan using only a minimum of valuable water," he adds.
Geberit's focus on sustainability, however, does not end with a WC that has a low flush setting. Its strength also lies in sustainable hydraulics. "With the hydraulic tower, we test that the flush setting will also remove all solid waste from the system," Nassar points out. "Geberit has invested over 35 years in the research and development of sustainable, technical solutions for drainage systems. In an increasingly urbanised world, water systems must be designed and operated according to innovative standards in terms of resource efficiency, sustainability and resilience."
Geberit continues to invest in research and development to strengthen its position as a leading provider of sustainable solutions. "This means we are well prepared for whatever challenges the future brings and for the healthy and sustainable growth of the company. And that will prove its worth, not least for our shareholders," says Nassar.
Its sustainable approach that includes innovative water management, comprehensive know-how and a strong focus on sustainability – across all products, sectors and processes – really pays off for the environment and society, as well as for customers, partners, employees and shareholders.
Nassar comments: "Geberit lives up to its responsibilities and has long been seeking answers to the key question 'how do we save water?' in an effort that embraces all business units, as part of a corporate strategy that is based on sustainability. For example, in our commitment to provide clean drinking water and our partnership with Swiss aid organisation Helvetas, we demonstrate that our social responsibility reaches beyond our core business."
Geberit will, in the coming years, continue to develop innovations that guarantee efficient and careful use of the key resource of water.
"This is what underpins and underwrites our success. Sustainable products are not only future oriented – they also ensure the future success of the company," Nassar concludes.
More Stories