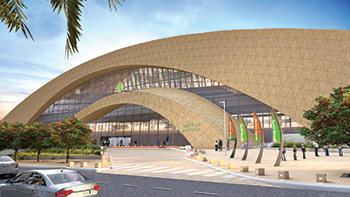 The 'four Ps' of envelope design
A facade shouldn't just dictate how a building looks, but also how it works, especially in the harsh climate of Saudi Arabia, writes MESHAL ALBUTHIE*.
May 2018
A building's envelope must be able to withstand the forces of the local environment and facilitate efficient maintenance. For a successful envelope design, there are four key elements that ensure a high-performance façade.
These can be easily remembered as the "Four Ps" of successful envelope design: performance (function and sustainability), price (affordability), prefabrication (ease of construction), and post-occupancy (durability and maintenance).
Leading architectural/engineering consulting practice Omrania and Associates strives to design unique, high-performance building envelopes that are appropriate for their context for every project that it is involved with. Here are some case studies which illustrate how Omrania's work is shaped by these four Ps:
• Arriyadh Metro Western Station: The complex geometry of the Arriyadh Metro Western Station presented a unique construction challenge that required an innovative solution – twice. The original design called for a cladding system of large, double-curved glass-reinforced concrete (GRC) panels that would be individually fabricated to create a seamless form. When the fabrication and transportation of the panels proved unwieldy, the problem was initially resolved by using a larger number of smaller panels. However, at a later stage, Omrania was asked to reduce the cost of the cladding system by relying on standardised panels if possible. After performing a thorough investigation involving analytical and synthetic studies along with parametric modelling and algorithmic solutions, Omrania was able to redesign the panel shape and arrangement using a trapezoidal zigzag pattern instead of the original rectilinear staggered pattern. This allowed Omrania to achieve the desired form and the permitted deviations with care to the edge treatment conditions, joint continuation along the cladding, and the soffit panel configuration. Taking into account the lower fabrication cost and simpler installation, this solution reduced the cost of the cladding by 75 per cent.
• The Capital Market Authority (CMA): The 80-storey Capital Market Authority (CMA) Tower is currently the tallest building in Riyadh and the centrepiece of the King Abdullah Financial District's (KAFD) financial plaza. Designed through a joint venture with HOK, the tower features a high-performance solar-control system that mitigates solar radiation. An external system of fins, catwalks, and perforated panels work in concert to shade the building's double-glazed curtain wall, thereby minimising heat gain and internal cooling loads. Energy costs are further reduced by the photovoltaic system installed at the roof of the tower. Also located on the roof, and at intermediate service floors, are building maintenance unit (BMU) systems that work with the external catwalks to provide access for cleaning and maintenance. With its energy-efficient skin, photovoltaic system, and intelligent infrastructure, the CMA Tower is expected to achieve Leadership in Energy and Environmental Design (Leed) Gold certification.
• Waha Office Building: Although the diagonally louvered facade of Omrania's headquarters in Riyadh, also known as the Waha Office Building, gives the building a distinct appearance, it was designed with energy performance in mind. The configuration of the screen reduces heat gain by deflecting the intense solar radiation typical of the Saudi climate. It was built using a locally produced polycarbonate that helped keep the project budget low, thanks to its reasonable price, relatively simple fabrication, and low transportation costs. Between the louvered screen and the glass curtain-wall, horizontal catwalks provide additional shading as well as easy access for maintenance.
• Kingdom Centre: The well-known Kingdom Centre in the Saudi capital, designed by Omrania in a joint venture with Ellerbe Becket, presents a uniquely curved, reflective, almost seamlessly smooth exterior that deflects the energy of the intense sunlight. In response to client demands for an unobstructed elevation, Omrania developed its design using a frameless stick-type curtain-wall fitted with a climate-appropriate double-glazing system. Ease of exterior cleaning and maintenance was also an important consideration. To facilitate facade maintenance operations, the BMU systems are stored in the tower's service floors and analytically distributed to achieve a shortened cleaning cycle duration.
• The Radisson Blu Hotel: Located in Riyadh's Diplomatic Quarter, this project features a unique multi-layered facade shading system that reduces energy consumption and merges seamlessly with its physical and cultural context. The entire envelope is conceived as a screen, using a flexible system of durable terracotta panels as well as terracotta tubes – known as "baguettes" – that form a brise-soleil in front of the double-glazed curtain wall components. Both terracotta elements were lab-tested to ensure they were durable enough to withstand high ultraviolet (UV) levels, discoloration, and thermal shock. Designed specifically for the climate of Riyadh, the facade system works in concert with structural overhangs and terraced setbacks to provide shading, thermal insulation, and an effective rain barrier, while providing balcony access. The facade was also designed to facilitate maintenance and repair, with concealed aluminium supports that enable each individual panel or baguette to be removed and replaced independently.
Designing an integrated envelope system that considers performance, price, prefabrication, and post-occupancy is not easy, but it is necessary. And when it's done well, a high-performing envelope can be as beautiful as any ornament.
* Meshal AlButhie is an architect and junior partner at Omrania, leading project teams in computational design and fabrication techniques. His areas of expertise include parametric modelling, generative design, visual scripting, and digital fabrication. He also works on construction site supervision. Prior to joining Omrania in 2015, he earned architectural design degrees from the California College of the Arts, Academy of Art University, and King Saud University.
More Stories